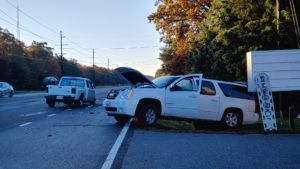 On November 7, 2018, at approximately 7:00 a.m., police fire and rescue personnel responded to Three Notch Road, and Evergreen Park Road, in Lexington Park for the reported motor vehicle accident.
Shortly after crews were dispatched for the initial call, the St. Mary's County Emergency Communications Center received multiple 911 calls reporting two vehicles in a head-on style collision, with one person trapped and unconscious, prompting an upgraded assignment.
Crews arrived on scene to find a Ford Ranger pick-up truck, and a GMC Yukon XL SUV involved a head-on style collision, with one vehicle in the roadway, and one vehicle off the roadway.
Two adults, and two pediatric patients were transported by ambulance to an area hospital with unknown injuries.
Police continue to investigate the cause of the crash and updates will be provided when they become available.