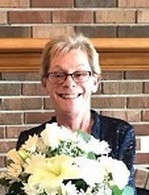 Lucy Mae Erskine, 59, of Chaptico, MD formerly from Leonardtown, MD passed away on November 1, 2018 at her home. She was born on September 27, 1959 to the late Elsie Marie Norris Woodburn and Francis Abell Woodburn. Lucy was the loving wife of Darrell Eugene Erskine whom she married on January 2, 1988 in Wicomico Shores, Mechanicsville, MD.
Lucy is survived by her children Katie Marie Quade (Matthew Ryan) of Avenue, MD, Darrell Francis Erskine of Chaptico, and one granddaughter. As well as siblings Charles David Woodburn (Sara), Philip Allen Woodburn, and Gloria Ann Nelson (Wayne). She was preceded in death by her siblings; Rose Marie Morris and Francis Abell Woodburn, Jr.
She was a lifelong St. Mary's County, MD resident and graduated from Chopticon High School in 1977. Lucy worked as a Food and Beverage Supervisor at the Wicomico Shores Golf Course Mechanicsville, MD for years retiring on November 14, 2017.
The family will receive friends on Wednesday, November 7, 2018 from 5:30 PM to 7:00 PM in the Mattingley-Gardiner Funeral Home Leonardtown, MD. A Funeral Service will follow at 7:00 PM in the Funeral Home Chapel. Interment will be private.
The family will have a life celebration on Sunday, November 11, 2018 at 1:00 PM in the Wicomico Shores Golf Course Hall 35794 Aviation Yacht Club Road Mechanicsville, MD 20659. Family and friends are welcome to attend.