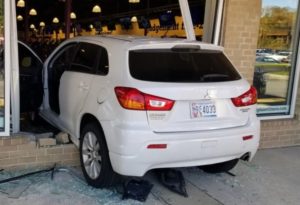 On Sunday, November 11, 2018, at approximately 11:35 a.m., police fire and rescue personnel responded to the Wildewood Shopping Center, located at 23415 Three Notch Road, in California, for the reported motor vehicle accident involving a structure
Crews arrived on scene to find a single vehicle halfway into the Planet Fitness building, with the single occupant/operator still inside the vehicle.
One patient was transported to an area hospital with minor non-life threatening injuries.
No other injuries were reported.
Police continue to investigate the crash, and updates will be provided when they become available.
All photos courtesy of the Bay District Volunteer Fire Department.