Popular TV series takes viewers to Hancock Family Farm in Charles County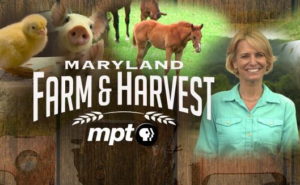 Maryland Public Television's (MPT) popular original series Maryland Farm & Harvest, in its sixth season, will feature farms in Charles, Frederick, Harford, and Wicomico counties during a Thanksgiving-themed episode airing Tuesday, November 20 at 7 p.m.
Maryland Farm & Harvest takes viewers on journeys across the state, telling stories about the farms, people, and technology required to sustain and grow Maryland's number one industry: agriculture. During the past year, MPT's production team has filmed episode segments at more than four dozen farms in preparation for the new season.  Segments featured on the upcoming episode are:
Turkeys and Thanks (location: Charles County). For farmers raising Thanksgiving turkeys, preparation begins long before the holiday.  At Hancock Family Farms in La Plata the spirit of family and giving back extends year-round. In the first segment of an episode that culminates in a Thanksgiving dinner, viewers meet farmer David Hancock and learn about the turkeys on his 350-acre farm. The family also raises and sells beef, chicken, lamb, and pork but is known in the community for organizing fundraisers to help individuals in need.  They recently raised money to support a children's hospital, filled a tractor trailer with supplies for victims of Hurricane Harvey in 2017, and conducted an auction to benefit people affected by last year's Kansas wildfires.
Sweet Potatoes (location: Wicomico County). Sweet potatoes, whether mashed or in a casserole, are a Thanksgiving staple. Farmer Gregg Williams of Columbia Creek Farm in Hebron raises 55 acres of corn and soybeans, but it's the acre planted with three distinctive varieties of sweet potatoes – White Haymans (an heirloom variety prized by Eastern Shore residents for generations), Purple Yams, and Covingtons – on which this segment is focused. Williams takes viewers through the harvesting and curing of his sweet potatoes before his wife Sherry serves up two dishes made from the farm's homegrown potatoes.\
Pumpkin Pie (location: Frederick County). Mary Jane Roop makes a mean pumpkin pie, but the appreciation for pumpkins at Brookfield Pumpkins in Thurmont goes beyond the traditional Thanksgiving dessert. Mary Jane and her husband Sam have 13 acres of pumpkins and gourds with about 40 varieties for customers to choose from. Sam also manages 300 acres of crops, but he and his wife look forward each year to the fall season, when they are able to connect with the community.
The Local Buy segment: Decorative Gourds (location: Harford County).  Segment host Al Spoler visits Lowe Farms in Pylesville where farmer Bobbie Lowe shares her passion for unique gourds – not the type that will end up on your dinner plate but instead the kind used in crafting decor. Lowe grows about 4,000 hard-shelled gourds a year, comprised of 56 varieties. She explains to viewers the tedious process of pollinating her more unique varieties before inviting Al Spoler to learn how to decorate one himself as part of her crafting classes, held in the barn at Bobbie's family farm.
Recipes based this this episode are available at mpt.org/farm.
Agriculture continues to be Maryland's largest commercial industry, contributing more than $17 billion in revenue each year. The state currently has some 12,200 farms – 84 percent of them family-owned – and nearly 6,000 full-time farmers.  These farms account for more than two million acres, which translates into 40 percent of Maryland's land being used for agriculture. Approximately 350,000 Marylanders are employed in some aspect of agriculture.
More than six million viewers have tuned in to Maryland Farm & Harvest since its fall 2013 debut. The series has taken MPT viewers to nearly 250 farms, fisheries, and other agriculture-related locations during its first five seasons, covering every Maryland county, as well as Baltimore City and Washington, D.C.
Maryland Farm & Harvest airs on Tuesdays at 7 p.m. on MPT-HD and is rebroadcast on Thursdays at 11:30 p.m. and Sundays at 6 a.m. Each show also airs on MPT2 on Fridays at 7:30 p.m. More information about the series is available at mpt.org/farm, and viewers can join the conversation on social media at the hashtag #MDFarmHarvestFans.
The Maryland Department of Agriculture is MPT's co-production partner for Maryland Farm & Harvest.  Major funding is provided by the Maryland Grain Producers Utilization Board.
Additional funding is provided by Mid-Atlantic Farm Credit; Maryland's Best; the Maryland Agricultural Resource-Based Industry Development Corporation; the Maryland Agricultural Education Foundation; and the Maryland Soybean Board.
Other support comes from the Maryland Association of Soil Conservation Districts; Wegmans Food Markets; the Maryland Nursery, Landscape & Greenhouse Association; the Delmarva Poultry Industry, Inc.; the Rural Maryland Council; the Maryland Seafood Marketing Advisory Commission; the Maryland Farm Bureau, Inc.; Mar-Del Watermelon Association; and the Southern Maryland Agricultural Development Commission.