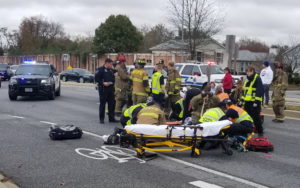 UPDATE 11/13/2018 @ 11:00 p.m.: On November 13, 2018, at 11:22 a.m. patrol units from the St. Mary's County Sheriff's Office responded to the 22000 block of Chancellors Run Road in the area of Clipper Drive in Great Mills, for the reported motor vehicle collision involving pedestrians.
Deputies arrived on scene and found a single vehicle had struck two pedestrians. The pedestrians were transported to area trauma centers, and one pedestrian was pronounced deceased at the medical facility. The St. Mary's County Sheriff's Office Collision Reconstruction Unit was contacted, and continued the investigation.
Preliminary investigation determined a 2003 Dodge Dakota, operated by Hugo Neme Camelo, 31 of Hollywood, was traveling north on Chancellors Run Road towards Three Notch Road, when Camelo struck two pedestrians. The pedestrians have been identified as Luz Aldave Frias, 85, and Leandro Banaag Frias, 87, both of Great Mills. Luz Frias and Leandro Frias were crossing the northbound lanes of Chancellors Run Road, when they were struck by the Dodge truck. Luz Frias was transported by ambulance to Prince George's Trauma Center and Leandro Frias was flown by helicopter to Washington Hospital Center where he succumbed to his injuries. The operator of the vehicle reported no incapacitating injury. At this time, speed and alcohol do not appear to be factors in the collision.
Anyone who witnessed the collision or any events leading to the collision, is asked to contact Corporal Vincent Pontorno at (301) 475-4200 extension *2337, or by email at [email protected]. Citizens may remain anonymous and contact Crime Solvers at (301) 475-3333, or text a tip to "TIP239" plus their message to "CRIMES" (274637). Through the Crime Solvers Program tipsters are eligible for an award of up to $1,000 for information about a crime in St. Mary's County that leads to an arrest or indictment.
11/13/2108 @ 12:45 p.m.: On November 13, 2018, at approximately 11:25 a.m., police fire and rescue personnel responded to Chancellors Run Road, and Clipper Drive, for the reported motor vehicle accident involving two pedestrians.
Crews arrived on scene to find a male and female lying in the roadway, with multiple citizens rendering aid.
The male patient with life-threatening injuries was transported by helicopter and the female with serious injuries was transported by ambulance to an area trauma center
The driver of the striking vehicle signed a patient care refusal form on the scene.
The St. Mary's Count Sheriffs Office is investigating the crash and updates will be provided when they become available.