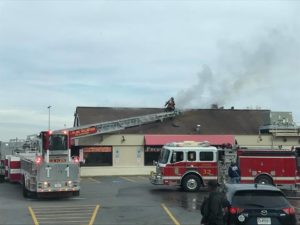 On Wednesday, November 14, 2018, at approximately 12:00 p.m., Firefighters from La Plata, Bryans Road, Bel Alton, Waldorf, and surrounding Departments responded to the Chicken Rico Restaurant, located at 3310 Crain Highway, in Waldorf for the reported structure fire.
Crews arrived on scene to find the two-story restaurant being evacuated with black smoke, and fire showing from the roof.
No injuries were reported and more than 40 firefighters extinguished the fire in under 40 minutes.
The Maryland State Fire Marshal responded to the scene and the fire is currently under investigation.
All photos courtesy of the Bryans Road, La Plata, Bel Alton, and Waldorf Volunteer Fire Departments.