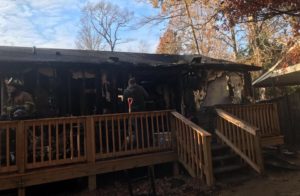 On Thursday, November 22, 2018, at approximately 2:00 p.m., volunteer firefighters from Solomons, Prince Frederick, St. Leonard, Hollywood, Bay District, and surrounding companies responded to 11641 Big Bear Lane, in Lusby, for the reported kitchen fire.
Prior to arrival of crews, dispatch advised they were taking multiple calls, and that the house had fire showing and was "well off".
Crews arrived on scene to find a one-story residence with smoke and fire showing.
Firefighters operated on scene for approximately two hours before returning to service.
No known injuries were reported.