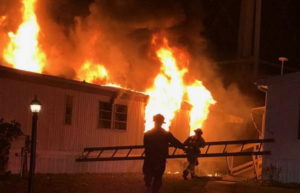 On Friday, November 23, 2018, at approximately 6:35 p.m., firefighters from Calvert and Prince George's Counties responded to Mary Lou Drive, and Mount Zion Marlboro Road in Lothian, for the reported trailer fire.
Crews arrived in scene to find a single-wide trailer with fire showing from all sides of the structure.
No known injuries were reported.
All photos are courtesy of the Dunkirk Volunteer Fire Department.