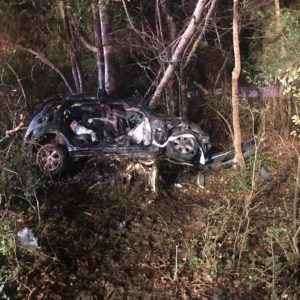 On Monday, November 26, 2018 at approximately 12:15 a.m., fire and rescue personnel responded to the area of Crain Highway and Old Stagecoach Road, for the reported serious motor vehicle accident with one subject reportedly trapped.
Approximately 3 minutes before the crash occurred, police observed a vehicle travelling at a high rate of speed on Crain Highway in the area of Fairgrounds Road. Police lost sight of the vehicle and attempted to locate it.
While searching for the vehicle, multiple citizens flagged down the officer in the area of Old Stagecoach Road to report a vehicle off the roadway and in a ditch.
Crews arrived on scene to find the single vehicle off the roadway and into the woods with the vehicle resting on its side against multiple trees, with the single occupant/operator unconscious and heavily trapped in the vehicle.
The single patient was transported by Maryland State Police Helicopter Trooper 2 to an area trauma center with serious injuries.
Police continue to investigate the crash and updates will be provided when they become available.