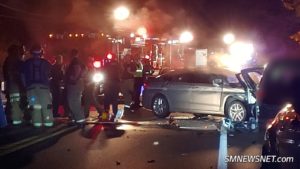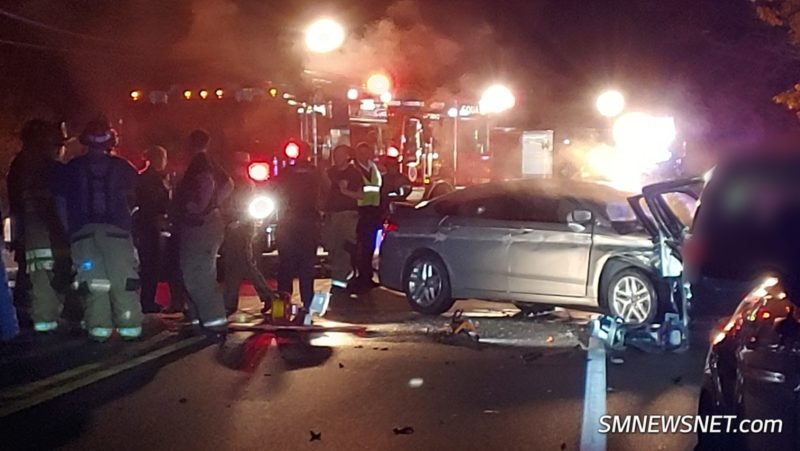 UPDATE 11/27/2018 @ 9:40 a.m.: On November 26, 2018, at approximately 7:40 p.m. deputies from the St. Mary's County Sheriff's Office responded to a report of a motor vehicle collision, in the 24200 block of Point Lookout Road in the area of Hanover Drive in Leonardtown.
Upon arrival deputies discovered a vehicle on fire with an occupant trapped inside. The fire was extinguished by fire department personnel, and the trapped occupant was found to be deceased. The deceased sustained minor burns as a result of the vehicle fire, however non-survivable injuries were sustained in the collision.
The St. Mary's County Sheriff's Office Collision Reconstruction Unit responded and continued the investigation.
Preliminary investigation determined a 2013 Ford Fusion operated by Michael Anthony Cook, 45 of Callaway, was traveling southbound on Point Lookout Road, when for unknown reasons the vehicle left the roadway and struck the guardrail on the southbound shoulder of the roadway. The vehicle was then propelled across all lanes of travel, and struck a 2007 Honda Odyssey operated by Stoianka Lubomrova Encarnacion, 47 of Great Mills, which had maneuvered to the northbound shoulder in attempt to avoid the other vehicle. After the collision both vehicles caught fire, with Encarnacion still trapped in her vehicle. After the fire was extinguished, Encarnacion was found to have succumbed to injuries sustained as a result of the collision. A juvenile passenger in Encarnacion's vehicle was flown to Children's Hospital with incapacitating injuries. Cook was also transported to a trauma center with incapacitating injuries.
At this time alcohol does not appear to have been a factor in the collision.
Anyone who witnessed the collision or the events leading up to the collision, is asked to contact Corporal Brian Connelly at (301) 475-4200 extension *8031 or by email at [email protected]. Citizens may remain anonymous and contact Crime Solvers at (301) 475-3333, or text a tip to "TIP239" plus their message to "CRIMES" (274637). Through the Crime Solvers Program tipsters are eligible for an award of up to $1,000 for information about a crime in St. Mary's County that leads to an arrest or indictment.
11/26/2018: On Monday, November 26, 2018, at approximately 7:40 p.m., police fire and rescue personnel responded to the area of Point Lookout Road, and Hanover Lane, for the reported serious motor vehicle accident with one vehicle on fire and one subject trapped.
Crews arrived on scene to find two vehicles involved in a head-on style collision, with one vehicle on fire.
The single occupant of the van was pronounced deceased at the scene by emergency personnel.
Two patients from the sedan were transported by ambulance to St. Mary's MedStar Hospital where Maryland State Police Helicopter Trooper 7 flew both of them to area trauma centers.
Police continue to investigate the collision and updates will be provided as they become available.