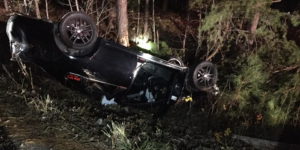 On Friday, November 30, 2018 at approximately 5:15 p.m., police fire and rescue personnel responded to the area of Mechanicsville Road, and Asher Road for the reported motor vehicle accident.
Crews arrived on scene to find a single vehicle off the roadway overturned and in a ditch, with the single occupant out of the vehicle.
The driver was transported by ambulance to an area trauma center.
Photos courtesy of Mechanicsville Volunteer Fire Department.