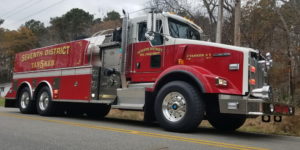 On December 4, 2018 at approximately 12:15 p.m., volunteer firefighters from Seventh District, Leonardtown, Mechanicsville and Hollywood responded to 38231 Hatchet Thicket Road, and Olen Mattingly Road, in Avenue for the reported structure fire.
Crews arrived on scene to find a single wide trailer on the ground and fully engulfed in fire.
Firefighter controlled the fire in approximately 10 minutes.
No injuries were reported in the incident.
The Maryland State Fire Marshal responded to the scene to investigate the cause of the fire.
Updates will be provided when they become available.