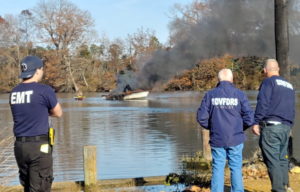 On December 6, 2018 at approximately 1:25 p.m., Volunteer Firefighters from Second District, Seventh District, Ridge, and Bay District responded to  Cherryfield Road, in Drayden for the reported boat fire.
Crews arrived on scene to find a boat fully engulfed in fire floating away from the pier.
Maryland Natural Resources Police responded to the scene to handle the investigation.
No injuries were reported.