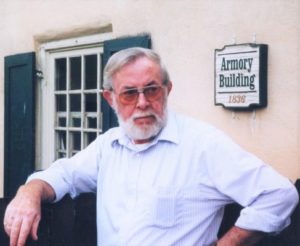 Kenneth Emil Sola, 79, of Abell, MD passed away on April 15, 2019 at his residence surrounded by his loving family.
Kenneth was born on July 19, 1939 in Jersey City, NJ to the late Emil Bernard Sola and Margaret (Riley) Sola.
Kenneth married the love of his life, Jacquelyn Louise (Wilson) Sola in 1967 in Manhattan, NY. They spent 52 wonderful years together. In 1969, Kenneth earned his Bachelor's Degree from Columbia University; he went on to earn his Master's Degree from the University of Pittsburgh in 1972. He was employed as a Human-Factors Engineer for the Federal Government. Kenneth was a member of the 7th District Optimist Club. He enjoyed fishing, hunting and spending time with his family, friends and his dogs, Nina, Moppet, and Bo.
Kenneth is survived by his wife, Jacquelyn; children, Kenneth Emil Sola, Jr., of Abell, MD and Jonathan David Sola (Roberta), of St. Mary's City, MD; grandchildren, Carolyn, Lilly, Bella, and Evan Sola. He was preceded in death by his siblings, Robert and Arthur Sola.
The family will receive friends on Saturday, April 27, 2019 from 3:00 to 5:00 p.m. with a Prayer Service at 4:00 p.m., at Brinsfield Funeral Home, 22955 Hollywood Road, Leonardtown, MD 20650. Interment is private.
In lieu of flowers, memorial donations may be made to the 7th District Volunteer Rescue Squad, P.O. Box 7, Avenue, MD 20609 or Hospice of St. Mary's, P.O. Box 625, Leonardtown, MD 20650.
Condolences to the family may be made at www.brinsfieldfuneral.com.
Arrangements by the Brinsfield Funeral Home of Leonardtown, MD.