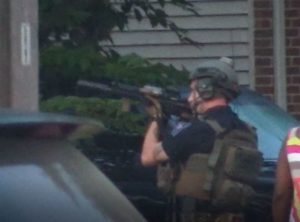 On August 17, 2019, at approximately 5:28 a.m. deputies from the St. Mary's County Sheriff's Office responded to the reported shooting/barricade in the 21300 block of Carmen Woods Drive in Lexington Park.
A caller to 911 reported that he had shot his mother and would shoot any law enforcement officers who came to the residence on Carmen Woods Drive. The individual advised his mother was was bleeding and he was barricading himself in an upstairs bedroom.
Officers arrived on scene and established a perimeter. Contact by phone was established with persons in the residence, and all of the individuals in the residence eventually came out voluntarily.
No injuries were reported and was determined that no crime had been committed by anyone at the residence.
Further investigation determined this was a "swatting" incident and no one from the residence had called in the false report.
This incident remains under investigation. and is being handled by Deputy Raley.
What is Swatting?
Swatting is a criminal harassment tactic of deceiving an emergency service into sending a police and emergency service response to another person's address. This is triggered by false reporting of a serious law enforcement emergency, such as a bomb threat, murder, hostage situation, or other alleged incident. – WIKI
The action or practice of making a prank call to emergency services in an attempt to bring about the dispatch of a large number of armed police officers to a particular address. – Dictionary