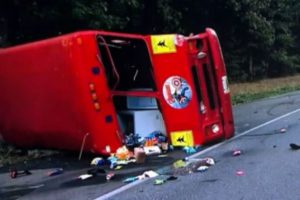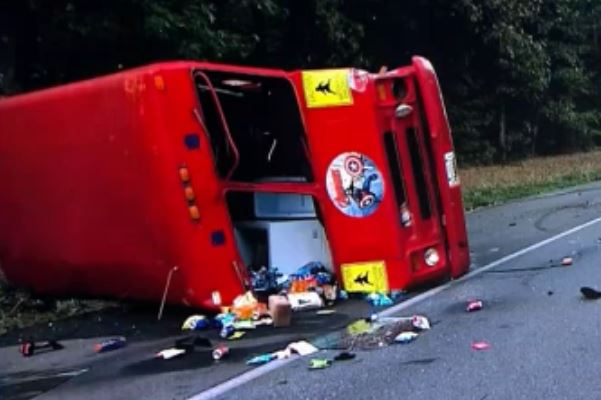 UPDATE 2/25/2022: Tony Covington, State's Attorney for Charles County, announced that on Thursday, February 24, 2022, Charles County Circuit Court Judge Donine Carrington Martin sentenced Jermaine Shawn Richards, 41, to 10 years with all but 8 years suspended in prison for the Motor Vehicle Manslaughter of Timothy Brown. Upon release, Richards will be on supervised probation for five years.
Richards previously entered a guilty plea to the aforementioned charge on March 18, 2021.
On October 5, 2019, officers from the Charles County Sheriff's Office responded to Radio Station Road in the area of Mudd Road in La Plata for the report of a motor vehicle collision.
Upon arrival, they discovered that a silver Honda Pilot, operated by Richards, crossed the double yellow center lane markings on the road and struck other vehicles.
An investigation into the collision revealed that at approximately 3:54 p.m., Richards was operating a silver 2003 Honda Pilot on northbound Radio Station Road above the posted speed limit.
A 1986 Chevrolet Ice Cream Truck was traveling southbound Radio Station Road simultaneously. Richards crossed the center double yellow lines and struck the ice cream truck. Richards continued driving northbound in the southbound lanes and struck a 2016 Harley Davidson Road Glide, operated by Brown. Brown was ejected off the motorcycle. Both the motorcycle and Brown struck a 2013 Kia Sorrento, occupied by a young woman and a child, that was traveling southbound.
Richards continued traveling northbound in the southbound lanes until he exited the roadway, struck a tree, and his vehicle caught fire. Richards and Brown were transported to the hospital. Two other victims were also taken to the hospital for treatment of non-life-threatening injuries.
Brown was pronounced deceased at the hospital as a result of the injuries sustained during the collision.
A blood kit administered on Richards revealed that he was under the influence of alcohol. It was also later determined that Richards was operating the vehicle without a license.
During sentencing, a prosecutor for the case, asked for the maximum sentence of 10 years in order to help "provide justice for Mr. Brown, his family, and the others who were involved in this crash." The prosecutor also stated that, "The multicar crash was completely avoidable. The defendant took Mr. Brown's ­­– who was loved by family and friends – life and by the grace of God didn't take any more lives."
Before sentencing Richards to 8 years, Judge Carrington Martin stated, "As a result of your actions, somebody's life is lost. It's permanent. Your decision has affected all of your family present today, in addition to the decedent, the decedent's family, and the other victims."

UPDATE 10/6/[email protected] 5:00 p.m.:
On October 5, 2019, at approximately 3:54 p.m., officers responded to the area of Radio Station Road near Laurel Springs Park in La Plata for the report of a crash.
A preliminary investigation revealed the driver of a Honda SUV crossed the center line on Radio Station Road and struck an ice cream truck which was traveling in the opposite direction. The impact caused the ice cream truck to flip over, which in turn led to a multi-vehicle crash involving vehicles that were behind the truck.
One of the vehicles was a Harley Davidson motorcycle being operated by Timothy Anthony Brown, 54, of Landover. He was flown to a hospital where he died as a result of his injuries. The driver of the Honda SUV struck a tree causing his vehicle to catch on fire.
Several bystanders, including an off-duty Maryland State Trooper, helped pull the driver out of the car and to safety. He was flown to a hospital with serious injuries.
The driver of the ice cream truck was also flown to a hospital with serious injuries. One other person was injured and transported to an area hospital with injuries that do not appear to be life-threatening. Three other people were involved, but did not require medical treatment.
The Charles County Sheriff's Office Traffic Operations Unit is continuing the investigation.
Anyone who may have witnessed the crash is asked to call Cpl. Brad Saunders at (301) 609-6225.
Charges are pending the outcome of the investigation and a review by the Charles County State's Attorney's Office.
10/6/2019: On Saturday, October 5, 2019, at approximately 4:00 p.m., police fire, and rescue personnel responded to the area of Radio Station Road and Mudds Way in La Plata, for the reported motor vehicle accident with one vehicle overturned.
Crews arrived on the scene to find a SUV, an ice cream truck, an two motorcycles involved, with the ice cream truck overturned and the SUV off the roadway, into a tree and on fire.
Multiple Good Samaritans pulled one occupant from a burning SUV.
The La Plata Volunteer Fire Department reported three patients were flown from the scene by Maryland State Police Helicopters, along with three other patients transported to area hospitals.
Maryland State Police La Plata Barrack and the CRASH Team responded to the scene to conduct reconstruction.
Updates will be provided when they become available.