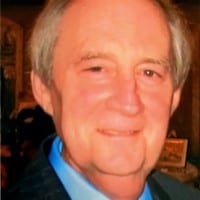 It is with sadness the Bay District Volunteer Fire Department announces the passing of Past Fire Chief George Fairfax.
George Richard Fairfax, 78, of Park Hall, MD passed away on Monday, March 9, 2020 at his home surrounded by his loving family. He was born September 5, 1941 in Washington, D.C. to the late Rudolph Keith Fairfax, Sr. and Margaret Grace O'Brien.
After moving to St. Mary's County and graduating from Great Mills High School, George enlisted in the U.S. Marine Corp in 1961 and honorably served in the Vietnam War. After the service, he continued his education and graduated from the University of Maryland, College Park, with a Bachelor of Science degree in Business.
George married his wife, Bonnie Rollins Fairfax on February 22, 1975 at St. Michael's Church, Ridge, MD. Together they celebrated over 45 years of marriage. George worked 27 years as a civilian firefighter with the U.S. Navy, retiring as a supervisory firefighter in 1996. He was a lifetime member of the Bay District Volunteer Fire Department. After retirement, he began working for the Maryland Fire and Rescue Institute (MFRI) as a Technician and Field Instructor, ending his second career as the MFRI Training Coordinator for the Southern Maryland Regional Training Center. In 2012, George received the award for Fire Instructor of the Year for the state of Maryland.
George loved hard work and was constantly on the move. He loved helping family and friends and spending time with his grandchildren. He especially loved working outside and mowing the lawn. He had a strong work ethic and no job was left unfinished. In addition to his beloved wife, Bonnie, George is also survived by his sons: Jeff Fairfax (Jen) of Lexington Park, MD and David Fairfax (Ashley) of Leonardtown, MD; his grandchildren, Jake Fairfax, Tyler Davis, Reese Fairfax and Scarlett Fairfax; his siblings: Keith Fairfax of Lexington Park, MD, Peggy Maio of Great Mills, MD, Jimmy Fairfax of Great Mills, MD, Tommy Fairfax of St. Inigoes, MD, Marie Dean of Hollywood, MD and cousin Michael O'Brien of Thurmont, MD.
Family will receive friends for George's Life Celebration on Monday, March 16, 2020 from 5:00 p.m. to 7:00 p.m., ending with prayers at 7:00 p.m. at Bay District Volunteer Fire Department, Lexington Park, MD. A Funeral Mass will be held on Tuesday, March 17, 2020 at 11:00 a.m. at Immaculate Heart of Mary Church, 22375 Three Notch Road, Lexington Park, MD. Father Scott Woods will preside over the services. Memorial contributions may be made to the Lexington Park Rescue Squad, P.O. Box 339, Lexington Park, MD. 20653.