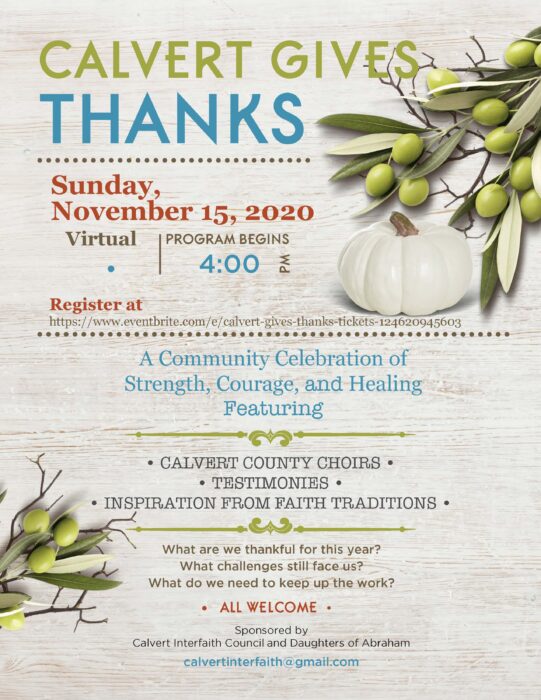 "Calvert Gives Thanks" will be held virtually Sunday, November 15th, at 4 p.m. Register at https://www.eventbrite.com/e/calvert-gives-thanks-tickets-124620945603 or for more information, email [email protected] Sponsored by the Calvert Interfaith Council (CIC) and the Daughters of Abraham, this year's interfaith celebration of strength, courage, and healing will feature Calvert County choirs and inspiration from community faith traditions.
For years the CIC and Daughters of Abraham have gathered to celebrate this iconic American holiday in conjunction with faith leaders from the Southern Maryland Islamic Center and Congregation Beit Chaverim, bringing together Jews, Muslims and Christians of all denominations for a communal gathering of followers of different religious beliefs and customs. When sharply divided along political party lines, and racial and religious lines, inclusive faith-based events like this annual gathering are vital in helping to reunite a fractured and volatile nation.

The words of this year's theme are strength, courage, and healing. "Strength" and "Courage" are crucial to "Healing" from the events of 2020. Our nation continues to be in the throes of uncertainty caused by unrest and a worldwide pandemic that has unexpectedly taken lives, disrupted people's living, and which has no end in sight. Every year this gathering reminds us though that it is possible to respect each other and to live peaceably together as neighbors and community members.
The reminder to be open-minded, welcoming neighbors is especially notable this year when we may not be able to gather in large groups with elderly grandparents and children to feast together in the normal tradition of many families.
We are all affected by the isolation and fear caused by the silent invader of our bodies and disrupter of our work, school, and community. Even though virtual, this interfaith community Thanksgiving event offers an opportunity to gather ourselves with our loved ones, to give thanks for what we have, and to introduce family and children to someone who may practice a religion that is different from our own.
For a meaningful and worthwhile family experience, join the Calvert Interfaith Council and Daughters of Abraham at their interfaith Thanksgiving. It will be a welcome pause to unify and uplift each other in this time of uncertainty.