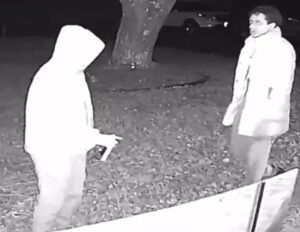 Calvert County Sheriff Deputy W. McDowell is seeking the identity of two individuals responsible for a Destruction of Property and Theft of Trump political signs.
The incident occurred on Persimmon Lane in Owings, MD on Tuesday, Nov. 10th at approximately 1:20 a.m. The suspects are believed to be involved in other thefts of political signs in the surrounding neighborhood of The Meadows.
Suspect 1 is described as being in his/her teens to early twenties wearing a dark-colored hoodie, blue jeans, and glasses.The second suspect is described as a black male in his teens to early twenties with short dreadlocks wearing a trench coat-style jacket.
Anyone with information is asked to contact Dep. W. McDowell at (410) 535-2800. Please refer to case number 20-58472 or feel free to use the 'Submit a Tip' feature on our mobile app. To download our app, visit: https://apps.myocv.com/share/a39520678