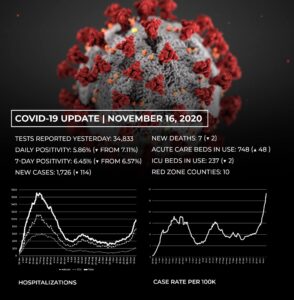 COVID-19 Statistics in Maryland
Number of confirmed cases : 167,656
Number of persons tested negative : 1,955,619
Total testing volume : 3,894,566
Number of confirmed deaths : 4,160
Number of probable deaths : 149
Currently hospitalized : 985
Acute care : 748
Intensive care : 237
Ever hospitalized : 18,688
Released from isolation : 8,380

Maryland is reporting a seven-day average positivity rate of 6.45%, a slight decrease from yesterday, while total hospitalizations have increased by 47 to a total of 985.
Our statewide case rate has increased to 28.2 per 100K, and all 24 jurisdictions have case rates above 10 per 100K.
As we continue to see widespread community transmission, it's more critical than ever that Marylanders increase their vigilance and follow the public health guidance. We need to get back to basics: wear a mask, wash your hands, avoid gatherings, and practice physical distancing.
Learn how you can help slow the spread: covidlink.maryland.gov
See the data on COVID-19 in Maryland: coronavirus.maryland.gov
Plan your COVID-19 test: covidtest.maryland.gov