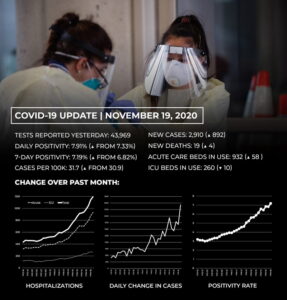 Maryland is reporting 2,910 new cases of COVID-19, the largest number of daily new cases since the pandemic began.
The case rate has increased to 31.7 per 100K, and total hospitalizations are now at their highest level since May.
Yesterday, Maryland set a new record-high volume of tests (43,969). One of the most important things you can do to protect your friends and family is to get tested for COVID-19.
Explore the more than 220 test site options statewide here: covidtest.maryland.gov
COVID-19 Statistics in Maryland
Number of confirmed cases : 174,733
Number of persons tested negative : 1,994,775
Total testing volume : 3,998,070
Number of confirmed deaths : 4,220
Number of probable deaths : 152
Currently hospitalized : 1,192
Acute care : 932
Intensive care : 260
Ever hospitalized : 19,134
Released from isolation : 8,441