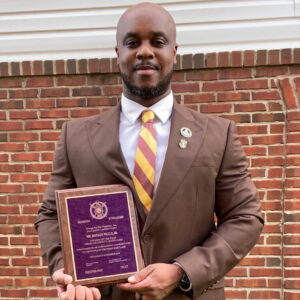 By days, evenings and midnights, he's a police officer right here in Charles County! But on his days off, he turns into a superhero. Literally.
For eight years now, PFC Ron Walls, Jr., a nine-year-veteran of the CCSO, has donned a Spiderman, Black Panther or other superhero costume and has visited sick children at hospitals. Or he attends local community events to encourage and engage our youth. You may have caught a glimpse of him at some of our Special Olympics Law Enforcement Torch Run fundraisers too!
PFC Walls also participates in outreach events with his fraternity and other organizations of which he is a member. With his Iota Phi Theta fraternity, they do yearly fundraising for St. Jude's Children's Hospital and with the Masonic Lodge Bee Hive #66, they provide food to local children in need, road clean-up for Adopt-A-Road along Route 210 in Bryan's Road, and conduct an annual toy and clothing drive for families who are struggling.
So it's only fitting that PFC Walls was recently named Citizen of the Year, Charles County, Maryland by Omega Psi Phi Fraternity, Inc. Tua Lambda Lambda Chapter.
According to the Omega Psi Phi Fraternity, PFC Walls was selected as Citizen of the Year because of his profession as a police officer, his longtime personal commitment to community involvement, especially with children, and his dedication to community outreach.
PFC Walls is currently assigned to patrol operations and serves as a hostage negotiator, a crime scene processor, and serves on the Special Event Response Team. Prior to joining the CCSO, PFC Walls was a police officer with Metro Transit Police for just over two years.
PFC Walls said the award means a lot to him "because it was unexpected. I do things in the community because it's fun and serves a purpose. I think of all the people who helped me when I was growing up and want to pay it forward. And to be recognized by another fraternity in the same umbrella of fraternities and sororities of the Divine 9 as mine, is an honor."
Congratulations to PFC Walls!