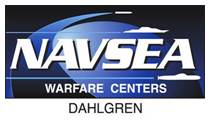 NSWCDD plans to conduct range testing, Monday-Wednesday, November 23-25 from 8 a.m. to 5 p.m. that may produce loud noise in communities surrounding Naval Support Facility Dahlgren. Access to the Potomac River Middle Danger Zone – as described in 33 CFR 334.230 – will be restricted during testing.
Noise Questions & Comments: Call NSF Dahlgren: 540-653-8153 to comment or ask a question about noise or vibrations you think are being caused by operations at Dahlgren.
For more information on NSWC Dahlgren's range schedule, contact the NSWCDD Public Affairs Office, (540) 653-8154.

Monday, November 23, 2020
Testing at: EEA
Operating Times: 8 a.m. – 5 p.m.
Noise on Station: Potential to create "Very Loud" noise in the southern (Building 101) area of NSF Dahlgren.
Noise Down Range: Potential to create "Very Loud" noise down range and in communities surrounding NSF Dahlgren.
River Restrictions: None
Roads Closed on Station: Tisdale Road/Shocktube Road/Blue Stone Road/Holden Road/River Bank Road/Fuze Road
Barricades Closed on Station: Churchill Range/Harris Range
EMCON Conditions: Condition 2 in Buildings 995/948/1122/455, Condition 1 in Buildings 1180/1186, Condition 4 in Buildings 102/161/943
MR Shelter Condition: Local
Tuesday, November 24, 2020
Testing at: Main Range/Buildings 1180-1186/EEA/PRTR River Operations
Operating Times: 8 a.m. – 5 p.m.
Noise on Station: Potential to create "Very Loud" noise in the southern (Building 101) and eastern (Main Range and Terminal Range) areas of NSF Dahlgren.
Noise Down Range: Potential to create "Very Loud" noise down range and in communities surrounding NSF Dahlgren.
River Restrictions: Restricted approximately 10,000 yards down range from NSF Dahlgren below the yellow "O" buoy (MD), to the yellow "N" buoy (VA).
Roads Closed on Station: Tisdale Road/Shocktube Road/Blue Stone Road/Holden Road/River Bank Road/Fuze Road
Barricades Closed on Station: Churchill Range/Harris Range/Area 3 Barricade/Shocktube Road Barricade/Hide Away Pond Barricade/1410 Back Gate/Blue Stone Road Barricade/Building 997 Gate 1/Building 997 Gate 2/Building 370 Gate/PRTR Main Gate/Star Gauge Road Gate/Olup Gate/Leatherneck Gate/Devil Dog Alley Gate/North Main Range Gate 2/North Main Range Gate 1/Fuze Road Barricade/ Building 1373 Barricade/ Building 235 Barricade/ Building 1160 Barricade
EMCON Conditions: Condition 2 in Buildings 995/948/1122/455, Condition 1 in Buildings 1180/1186, Condition 4 in Buildings 102/161/943
MR Shelter Condition: Local
Other Notifications: None
Wednesday, November 25, 2020
Testing at: Buildings 1180-1186/EEA
Operating Times: 8 a.m. – 5 p.m.
Noise on Station: Potential to create "Very Loud" noise in the southern (Building 101) area of NSF Dahlgren.
Noise Down Range: Potential to create "Very Loud" noise down range and in communities surrounding NSF Dahlgren.
River Restrictions: None
Roads Closed on Station: Tisdale Road/Shocktube Road/Blue Stone Road
Barricades Closed on Station: Churchill Range/Harris Range/Area 3 Barricade/Shocktube Road Barricade/Hide Away Pond Barricade/1410 Back Gate/Blue Stone Road Barricade
EMCON Conditions: Condition 2 in Buildings 995/948/1122/455, Condition 1 in Buildings 1180/1186, Condition 4 in Buildings 102/161/943
MR Shelter Condition: Local
Other Notifications: None
Thursday, November 26
No testing today. Have a great Navy day
Friday, November 27
No testing today. Have a great Navy day