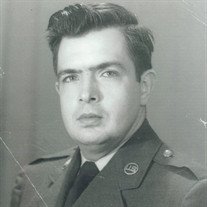 Charles T. Clynes, Jr., age 89, died peacefully on November 18, 2020 at his residence in Marbury, Maryland.
He was born to Charles and Marion Clynes, raised in Fall River, Massachusetts with his two brothers, Thomas Charles Clynes (Rita) and Edward Clynes (Marie) and two sisters, Marion (Larry) and Sadie.
Dad honored his country serving in the U.S. Air Force which included a deployment in Vietnam and Korea where he received a bronze star for rescuing soldiers from a burning aircraft. He also received the Commendation Award and the Meritorious Service Medal. He was an avid world traveler, having lived in Iceland, Germany, and the Philippines. This followed a career working for the Capitol Police Department where he protected presidents and politicians in Washington, DC. During his career in the Capitol Police Department, he received the award for sharp shooting.
Dad was a beloved son, husband, father, grandfather, and great-grandfather. He loved his family and his country. Dad took care of his mother and supported her until she died. Dad enjoyed watching football, the fights, and hunting in his younger days all the way up to 80 years old with his sons, Chuck and Shawn, and grandson, Brian. He had a passion for fishing which he enjoyed with his grandchildren. He loved family gatherings, especially Thanksgiving and Christmas. When Dad was younger, he had a kennel named Crystal Creek where he raised champion beagles. His favorite champion was named Line Master. Dad also loved his dog, Frosty. Dad baby sat the grandchildren and he doted on the great-grandchildren.
He is survived by his loving wife of 64 years, Eleanor Mary; his children, Charles T. Clynes, III (Florence), Darlene M. Marechek (Steve), Brian E. Clynes (Janet), and Shawn P. Clynes (Mia); his grandchildren, Jessica Tarleton (Drew), Joseph P. Brehm (Kelly), Krista Hanson (Chris), Charles T. Clynes, IV (Chelsea), Brian E. Clynes, II (Jen), Joshua Clynes, Rebecca Adriaanse (Nick), Zachery Clynes; and his great-grandchildren, Emma, Liam and Harrison Tarleton, Reagan Clynes, Gwen Adriaanse, Tessa Rae Brehm, and Walter "Buckie" Adriaanse.
Visitation on Wednesday, November 25, 2020 from 9:30-10:45AM in St. Joseph's Catholic Church Hall, 4590 St. Joseph Way, Pomfret, Maryland 20675. Mass of Christian Burial at 11AM at St. Joseph's Catholic Church (same address) with Interment to follow in the church cemetery.
Face masks are required for all services and social distancing is to be observed with limited attendance.