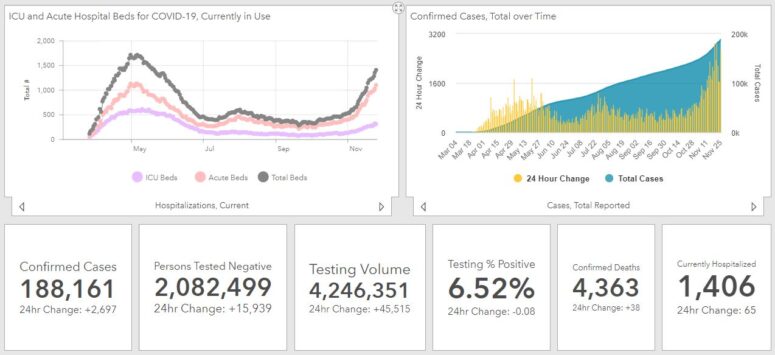 As  of Wednesday, November 25, 2020, Maryland reports 188,161 COVID-19 cases and 4,363 deaths. An increase of 2,697 cases and 38 deaths over 24 hours.
There are 1,406 total COVID-19 hospitalizations, an increase of 65 over yesterday.
A week earlier, on Wednesday, November 18th, Maryland reported 171,823 COVID-19 cases and 4,201 deaths. Todays numbers show an increase of 16,338 cases and 162 deaths in 7 days.
According to the official data issued by the Maryland Department of Health and the CDC, Maryland's daily positivity (6.77%) and seven-day positivity rate (6.52%) have begun to show signs of leveling over the past week; however, several counties continue to report very high positivity rates, including Allegany (16.61%), Somerset (15.68%), and Garrett (13.89%).
COVID-19 Statistics in Maryland
Number of confirmed cases : 188,161
Number of persons tested negative : 2,082,499
Total testing volume : 4,246,351
Number of confirmed deaths : 4,363
Number of probable deaths : 155
Currently hospitalized : 1,406
Acute care : 1,098
Intensive care : 308
Ever hospitalized : 20,068
Released from isolation : 8,549