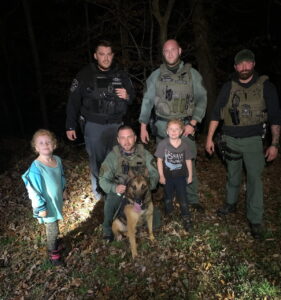 12/01/2020: It was a happy homecoming for 7-year-old twins Annabelle and Abigail Thanksgiving day after the girls went missing and were reunited with family after several hours of playing in the woods.
Deputies responded to a residence on Fireberry Ct. in Prince Frederick, MD for the report of "Missing Persons", shortly after 4:45 p.m. It was learned the 7-year-old twin girls went to play outside around noon and never returned.
Due to the children's age and the amount of time between last contact, a search began. Calvert Deputies Cpl. Moran, DFC Idol, DFC Barger, D/S Gough and K-9 Abel did a K-9 track through the woods. Between the K-9 track and MSP Trooper 7, both Annabelle and Abigail were located safely, several miles into the woods behind the residence shortly before 6 p.m.
The girls were returned home and reunited with their family where the 'happy homecoming' took place.
Kudos to K-9 Abel and the team for a job well done!
UPDATE 6:02 P.M., Units from the Calvert County Sheriff's Office with the assistance from K9 units and the Maryland State Police Aviation Team, the two missing children have been found safe and UNHARMED.
5:29 P.M: The Calvert County Sheriff's Office is currently searching for two missing 7-year-old twins missing from Fireberry Court in Prince Frederick.
No other information has been provided.
Updates and details will be provided when they become available.
Both of the missing children are white females with red hair. Any info call 410-535-2800, or 911.