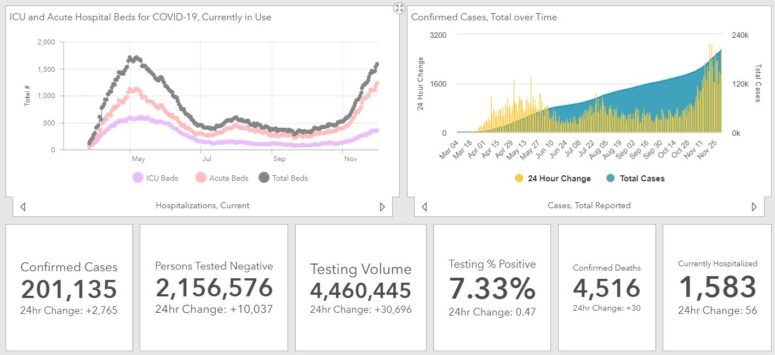 As  of Tuesday, December 1, 2020, Maryland reports 201,135 COVID-19 cases and 4,516 deaths. An increase of 2,765 cases and 30 deaths over 24 hours.
There are 1,583 total COVID-19 hospitalizations, an increase of 56 over yesterday.
Today at 4 p.m.,  Governor Larry Hogan will hold a press conference to provide updates on our response to the new surge of COVID-19.
COVID-19 Statistics in Maryland
Number of confirmed cases : 201,135
Number of persons tested negative : 2,156,576
Total testing volume : 4,460,445
Number of confirmed deaths : 4,516
Number of probable deaths : 157
Currently hospitalized : 1,583
Acute care : 1,233
Intensive care : 350
Ever hospitalized : 21,206
Released from isolation : 8,613