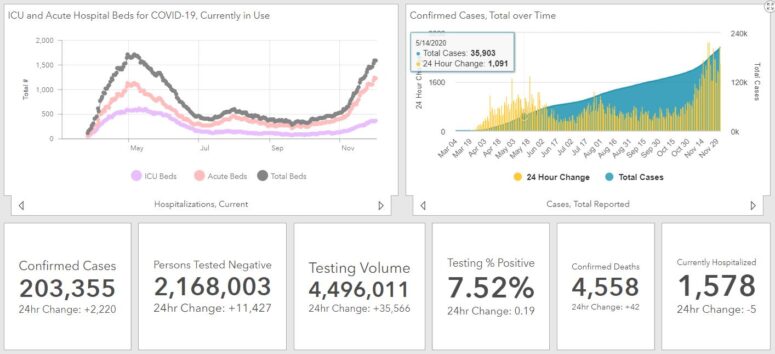 As  of Wednesday, December 2, 2020, Maryland reports 203,355 COVID-19 cases and 4,558 deaths. An increase of 2,220 cases and 42 deaths over 24 hours, and 8,648 total patients have been released from isolation.
There are 1,578 total COVID-19 hospitalizations, a decrees of 5 from yesterday.
Governor Larry Hogan Launched
'MarylandMedNow'
to Staff Up Nursing Homes, Testing Sites, and Vaccination Clinics Urges Colleges and Universities to Award Academic Credit, and Help Healthcare Students Quickly Enter Workforce.
COVID-19 Statistics in Maryland
Number of confirmed cases : 203,355
Number of persons tested negative : 2,168,003
Total testing volume : 4,496,011
Number of confirmed deaths : 4,558
Number of probable deaths : 157
Currently hospitalized : 1,578
Acute care : 1,219
Intensive care : 359
Ever hospitalized : 21,395
Released from isolation : 8,648