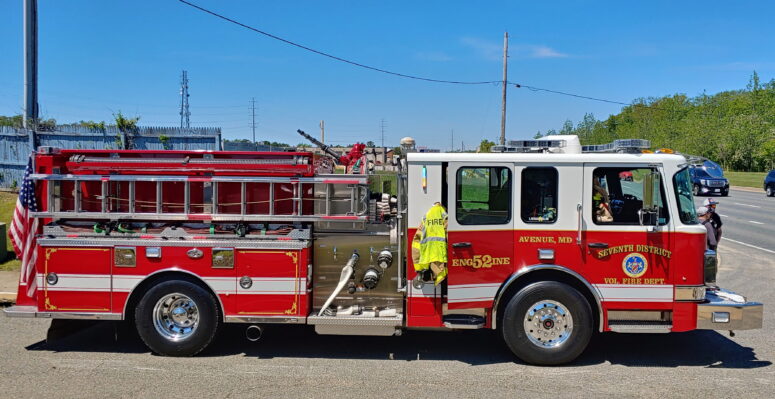 The Seventh District Volunteer Fire Department is pleased to announce that we will be bringing Santa around to our Community once again by way of a fire truck. We will be visiting many of the most populated streets and neighborhoods in our area and hope that you understand that we will not be able to get to them all. We want to accommodate as many people as possible during our time out. PLEASE NOTE, this year we will not be stopping as we have in years past. We have greatly enjoyed the personal interactions over the years and being able to allow a little extra time for the kids to interact with Santa. Unfortunately that will not be possible this year.
Our Santa Runs will begin at 5:30 p.m. and may run up to 8:00 p.m. with the exception of Sunday December 8th they will begin at 5:00 p.m. If for some reason you do not see us on the night we posted, please check this page the following day by 11:00 a.m. for an update. If the time became too late, we have an emergency call or weather becomes an issue, we may have rescheduled your street for another night. We will also put updates on our Facebook page. On Facebook Search "Seventh District Volunteer Fire Department"
The below schedule is as close to accurate as possible but is subject to change due to time constraints or weather. They are also close to the order we will be going in to get to the roads. In the tables below, we will start with the street on the left at the top of the list. For example, on Friday, December 11th, the first area will be Dorthy Mae Court and we will end on St. Winifred's Lane. We will do our best to see everyone in our community. If your street is not one that appears on our list please send an e-mail to us at mail@sdvfd5.com and we will make an attempt to make it by your home. You can also contact us on our facebook, twitter or instagram pages and we welcome pictures and comments of us out an about in your neighborhood! Please tag us in your post. We hope you have a Merry Christmas!

Friday, December 11, 2020    
Starting at 5:30 p.m. 
Clement's Area

Dorothy Mae Court

Long Road

Grampton Road

Mount Chance Court

Mount Chance Lane

Hurry Road up to Manor Rd

Avenue Area

Downs Drive

Kays Way

Thomas Court

Ted Drive

Ted Circle

St. Winifred's Lane
Sunday December 13, 2020
Starting at 5:00 p.m.
Bushwood Area

Oscar Hayden Road

Taylor Farm Assisted Living

Millpoint Shores

We will travel Bay Drive to River Drive to Sunrise Avenue, to McGlue, to Center Avenue

Notley Hall Road

Longview Beach

We will travel Plesant Lane to the end and back up Longview Blvd. Please meet us at any cross street.
Friday, December 18, 2020
Starting at 5:30 p.m.
Colton's Point Area 

Charles Hall Road

Beach Road

Point Breeze Road

Bayview Road

Avenue Area

Louis Bailey Road

River Springs Road

Golden Thompson Road

Olen Mattingly Road

Abell Area

Van Ward Road

Morris Point Road

Collinwood Drive

Gerards Cove Road
MAKE UP DAY – WILL BE DECEMBER 20th IF NEEDED