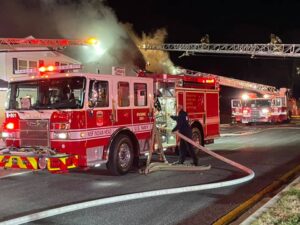 On Saturday, December 5, 2020, at approximately 10:10 p.m., firefighters responded to 4035 Indian Head Highway, in Indian Head for the report of an apartment on fire.
It took over 50 firefighters approximately 30 minutes to bring the fire under control.
The fire involved an eight unit apartment building. All units sustained varying level of fire, smoke and water damage. Smoke alarms were reportedly installed in the unit of origin but it is unknown if the detectors operated properly. Eleven total residents were displaced and are being assisted by The American Red Cross.
Investigators determined the fire started in a living room of a ground floor apartment.
The estimated  monetary loss to the structure and contents was estimated at over $ 250,000.
The fire remains under investigation, and the preliminary cause is unknown at this time.