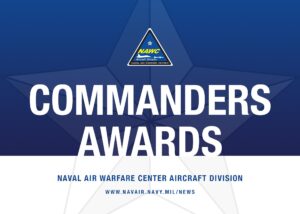 The Naval Air Warfare Center Aircraft Division (NAWCAD) recognized significant technical achievements during its 20th annual Commander's and Innovation Awards at Naval Air Station Patuxent River December 8.
"I am continually impressed by the innovation, dedication, and professional excellence that comes from our warfare center," said NAWCAD Commander, Rear Adm. John Lemmon, who presided over the virtual ceremony. "The Commander's Awards recognizes some of the best we bring to advance capability and operational readiness for naval aviation, and our warfighters." Lemmon is also assistant commander for research and engineering at the Naval Air Systems Command (NAVAIR).
NAWCAD selected awardees from more than 60 nominations. They represent some of the command's most innovative and important scientific contributions to naval aviation in 2020.
NAWCAD Commander's Award – Team
Additive Manufacturing COVID-19 Response Team
Group/Site: Air Systems Group, Patuxent River
Created personal protective equipment solutions supporting the medical, industrial, Department of Defense, and naval communities.
Additive Manufacturing Red Team
Group/Site: Air Systems Group, Patuxent River
Improved the performance and maintainability of metallic additive manufacturing with a new manufacturing technology that surpasses a directive from the Chief of Naval Operations calling for cycle time reduction.
F-35B Short Takeoff and Vertical Landing Flying Qualities Team
Group/Site: Air System Group, Patuxent River
Helped execute critical piloted simulator trials increasing operational environments and weapons carrying capacity for the F-35B.
Head-Up Display Video Camera System Replacement
Group/Site: Rapid Capability Engineering Group, Webster Outlying Field
Designed and integrated a replacement heads-up display video camera system for the T-45 Gowshawk trainer aircraft overcoming obsolescence issues.
MH-60S Gunner Seat Replacement Project
Group/Site: AIRWorks, Patuxent River
Fielded a new gunner seat for the MH-60S in collaboration with small business, two program offices, and a project task force.
NAWCAD COVID-19 Response Team
Group/Site: DAiTA, Patuxent River
Leveraged organic manufacturing, acquisition strategies, sanitization procedures, and distribution efforts to combat COVID-19 across NAWCAD facilities and prepare for employees' safe return to work spaces.
Research, Development, Test & Evaluation Risk Management Framework Tiger Team      
Group/Site: DAiTA, Patuxent River
The research, development, test and evaluation risk management framework tiger team (members gathered from multiple NAWCAD teams) addressed urgent requirements for Operation Triton Viper. These included high-priority Navy executive orders and impending expiration of five different authorizations to operate for critical systems. The team met all requirements for Operation Triton Viper and renewed approvals for the authorizations to operate.
Shipboard Launch and Recovery Program Team
Group/Site: Air Systems Group, Patuxent River
Combined ship and aircraft characteristics into a program to maximize performance planning and operations for F-35B vertical landings and short take-offs.
NAWCAD Commander's Award – Individual
Katie Wingenter
Group/Site: Airborne Electronic Attack Systems program, Patuxent River
Wingenter led a collaborative effort for safe and successful completion of more than 600 hours of testing of the Next Generation Jammer at NAWCAD's air combat environmental test and evaluation facility.
Kristen Finnegan
Group/Site: Naval Test Wing Atlantic, Patuxent River
Finnegan successfully completed the first-ever shipboard test detachment for the CH-53K despite technical and logistical challenges.
Lt. Gavin Kurey
Group/Site: Air Test and Evaluation Squadron (HX) 21, Patuxent River
Kurey conducted the first-ever landing of the CMV-22B aboard a naval vessel.
NAWCAD Innovation Awards  
Category: Team, Corporate/Institutional Support
Open Sources Intelligence Team   
Group/Site: DAiTA, Patuxent River
Implemented a weekly intelligence summary supporting NAVAIR, NAWCAD, program and executive offices, and the Department of Defense to allow for appropriate dissemination of information during mass telework due to the COVID-19 pandemic.
Category: Technical
Joseph Orr, Individual
Group/Site: Rapid Capability Engineering Group, Webster Outlying Field
Orr designed, developed, and delivered a cargo pallet sensor system enhancing the U.S. Coast Guard's ability to conduct law enforcement, and search and rescue missions.
Category: Team, System Life Cycle Support
F/A-18 & EA-18G Program Power & Propulsion Integrated Product Team (IPT), Team
Group/Site: F/A-18 and EA-18G Program, Patuxent River
The power and propulsion integrated product team from the F-18 program office at NAS Patuxent River increased the supply posture of the generator control unit by solving performance, production, and reliability issues with the part.
NAWCAD Patent of the Year
Jan Michael Kasprzak, Mursleen Numtaz, Pakky Ngaha, Joseph Hodkiewicz, Mark Glucksman-Glaser, and Nicholas Sofocleous invented United States Patent Number 10,711,861 "Controlled Oleo-pneumatic Damper Using Magnetorheological Fluid" – a controllable shock-strut for aircraft landing gear applications that provides active damper control.