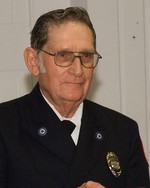 John P. "Chuck" Charles passed away on December 9, 2020 at MedStar St. Mary's. Chuck was born on April 17, 1930 to the late John R. and Mary E. (Sollenberger) Charles, in Lancaster, Pennsylvania.
Chuck proudly served his country for 20 years in the United States Navy, serving during the Korean and Viet Nam conflicts. One of his duties during the latter years of his military career was serving as a plane Captain on the maintenance crew for Blue Angel #3.
Following his retirement from the United States Navy, Chuck was employed for 20 years as a firefighter at the Naval Air Station, Patuxent River, MD, retiring just prior to joining the Second District VFD&RS.
Chuck joined the Department in 1992 focusing on the Emergency Medical Services. He became an EMT, and soon established himself as one of the more reliable daytime responders. During his active years, he was always rewarded with one of the Top Ten Response Awards each year. He was awarded the EMS Provider of the Year Award in 2002, and the prestigious Harry Koehler Memorial Award in 2008. Chuck served as an EMS Engineer for 10 years. He became a Life Member in 2018. He could be seen many times at the station in the early morning hours, checking out his beloved ambulances to ensure that they were mechanically sound and ready to go.
He also loved spending time with his granddaughters, teaching them to swim and ride bikes when they were young and regularly calling to check on them as adults.
Always congenial and friendly, Chuck loved sports, fishing, dancing, singing, and playing music.
Chuck is survived by a Step-Sister Shirley (Clyde) Martin, Nephews Timothy (Robin) Wilson, Vincent Wilson, Step-daughter Roxanne (William) Mierow, Step-Granddaughters Lori (Richard) Zillmer and Caryn Van Buskirk, Great-Grandchildren Ella and Richard Zillmer. Chuck was preceded in death by a Sister, Anna E. Wilson, dear friend Claudia Pilkerton and her daughter Sharon.
He will be sorely missed by his family and friends.
In lieu of flowers, memorial contributions may be made to the Second District Volunteer Fire Department and Rescue Squad, 45245 Drayden Road, P.O. Box 1, Valley Lee, Maryland 20692
The Funeral Service and Interment are private.