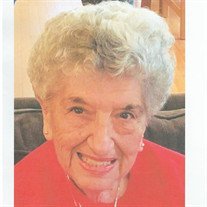 Dolores A. Vinciguerra, 91, of Waldorf, Maryland, formerly of Palm Harbor, Florida, passed away on December 2, 2020.
Born on December 18, 1928, in Washington, DC, she was the daughter of the late John and Isadora Guiffrida. Dolores worked for many years as a secretary for the Prince George's County School Board where she retired from what she described "the best job in the world."
In addition to her parents, she was preceded in death by her husband of 70 years and the love of her life, her "Dolly", Joseph A. Vinciguerra; her son Johnny Vinciguerra; her daughter Antoinette Vinciguerra; and her seven siblings.
Dolores is survived by her granddaughters Nicole and her husband Joey, Angela and her husband Ricky, Julie and her husband Ryan; and great grandchildren Gabriella, Annabelle, Emma, Laila, Amelia, Lorenza, and Silas.
Due to the COVID-19 Pandemic situation, funeral service will be limited to immediate family only. The family extends their regrets that they will be without your friendship and physical comfort. Your thoughts and prayers are appreciated at this time.
Interment will take place in Florida with her husband, at a later date.
In lieu of flowers, memorial contributions may be made to Hospice of Charles County, 2505 Davis Road Waldorf, MD 20603.