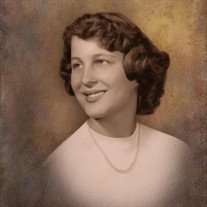 Kathryn Margaret Winters Wikert, 79, of White Plains, Maryland, passed away on November 30, 2020, 8:50pm at Georgetown Hospital after complications with lung disease/pneumonia.
Kathy was born on September 29, 1941 to Owen and Geraldine Hatfield Winters in Monterey, Indiana. After graduating from Monterey High School in 1959, Kathy was recruited by the Federal Government for a civil service position working for the Federal Bureau of Investigation (FBI) and moved to the Washington, DC area in 1960.
After marrying in 1962, Kathy moved to White Plains Maryland in 1968 where she remained and raised her two children, William (Bill) O. Wikert and Brenda K. Wikert Howard.
Kathy was an avid supporter of her children's recreational and high school sports. She never missed a game and was known by many for her enthusiastic cheering in the bleachers supporting football, softball, and baseball teams. She coached her daughter's softball team and umpired for Southern Maryland Youth Organization (SMYO) in the 70's/80's. Kathy also played softball several years for the Southern Maryland Women's league, enjoyed playing Bingo and Rummikub cards with her friends and bowling during the early days playing duckpin at Curly's to bowling on various leagues at AMF Waldorf Lanes – as of last year bowling on two teams: Waldorf Wonders and Tuesday Morning Mix. Kathy will be remembered for her lively conversations, strong opinions, many laughs. She would strike up a conversation with anyone during her outings around town.
Kathy took a break from working with the federal government to stay home with her children and eventually, after working locally for a bank and bowling alley, she was reinstated with the FBI.
After retiring from the FBI as a Paralegal Specialist/Training Instructor in January 2003, with 30 years of service, she dedicated her life to her four grandchildren and enjoying many road trips with her friends. As with her children's sports, she was able to be her grandchildren's spirited cheerleader at their games for baseball, softball, lacrosse, cheerleading competitions, and field hockey. She loved being outside and maintaining her yard. This past summer, after a courageous battle fighting non-small cell lung cancer, she was seen mowing her lawn and working in her vegetable garden. She was proud of her beautiful peony, lilac and forsythia bushes that bloomed every year.
Kathy was predeceased by her parents and brothers, Jack and Wayne Winters. She is survived by her brother, James (Bertha) Winters; sister, Shirley (Mont) Hoover; brother, Dick (Sue) Winters; sister-in-law, Jerry Winters; son, William "Bill" Wikert; daughter, Brenda (Chris) Howard; and her four grandchildren, Julia Howard, Camryn Howard, Amanda Wikert, and Connor Wikert.
Memorial contributions may be made in Kathy's name to Georgetown Lombardi Comprehensive Cancer Center, 3800 Reservoir Road, NW, Washington D.C. 20057, Phone: (202) 444-4000 or to your local charity of choice.
Private family service will be held locally at Raymond Funeral Service, La Plata, Maryland. Kathy will be laid to rest with her siblings at Star City West Cemetery, Indiana on December 18th. Interment arrangements handled by Frain Mortuary, Winamac, Indiana.
Online condolences and memories can be made on Kathy's Tribute Wall.