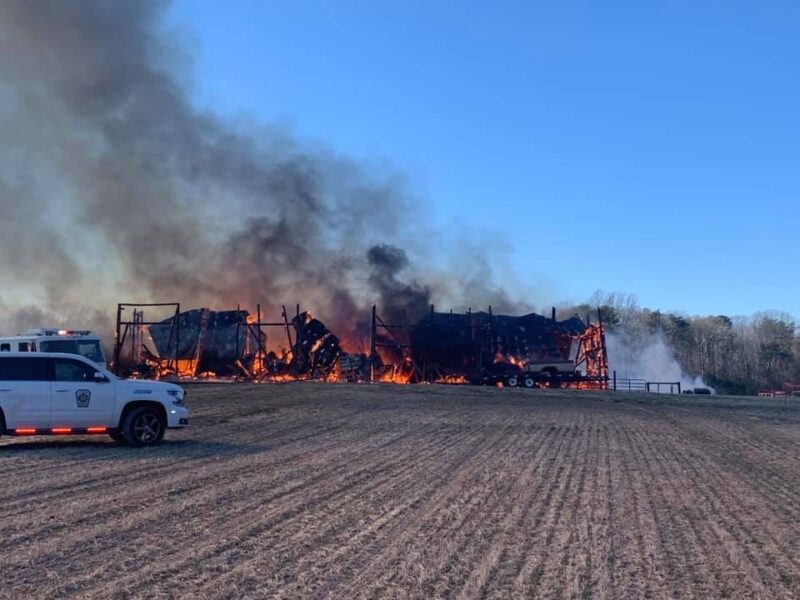 3/8/2021: The Horsmon Farm released the following statement on Facebook.
"What a horrific day. Our largest barn burnt down today. Not sure on the cause but we were on the farm when it happened. I called it in as soon as we noticed smoke and by the time I got off the phone with the 911 dispatcher it was fully engulfed.
All people and animals are safe. 4 tractors were lost, skid steer loader, hay equipment, countless tools, and so much more.
We appreciate our countless friends and family who stopped to help and provide support. We are so thankful to our volunteers at our local Fire Departments for saving the barn beside this one. Thank you to all of our Neighbors, Customers and Friends who have offered kind words and support as our farm starts healing. Hugs your loved ones because there were many what ifs."
3/7/2021: On Sunday, March 7, 2021, at approximately 3:15 p.m., firefighters from Calvert, Charles and St. Mary's County are currently responding to the Horsmon Farm located at 1865 Horsmon Farm Lane in St Leonard, for the reported large barn on fire.
Crews arrived on the scene to find an approximate 150×150 barn fully engulfed in flames and threatening a second large barn.
Firefighters made an interior attack in the second barn to stop the fire from spreading, firefighters found extensions in the roof and extinguished the fire in under 15 minutes. The first barn was declared as a defensive operation only.
First Responders continue to operate on the scene. Calvert County Sheriff's Office is on the scene assisting with traffic control.
Command incident reported there was no need for the fire investigator, as the owner of the property stated he knew what started the fire. The cause was not stated to Dispatchers.
Updates will be provided when they become available.
All photos courtesy of the Prince Frederick and St. Leonard Volunteer Fire Departments.