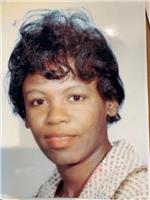 Rachel Taylor Christy's Sunrise was on January 10, 1941 and her Sunset was on March 8, 2021. Rachel spent her formative years in Park Hall, MD. She was born to the late Samuel C. Taylor Sr. and Mary Luvenia Matthews, and was the eleventh child out of eleven children. She accepted Christ at an early age and attended Zion United Methodist Church in Lexington, MD. Her faith and attending church was very important to her. She graduated from George Washington Carver High School in Park Hall, MD. After leaving high school she attended Bowie State University (formally Bowie State College) in Bowie, Maryland, where she received a BS degree in Elementary Education.
Rachel began her teaching career as a fourth grade teacher in St Mary's County and taught at White Marsh and Frank Knox Elementary Schools. She later moved to Anne Arundel County and taught at Pasadena and Cape St. Claire Elementary Schools and at Flintstone Elementary School in Prince George's County. Rachel was an extremely devoted teacher, who spent many hours preparing for her students. She wanted to make sure that all of her students were highly successful in the subject she taught them. She was rewarded for her hard work and dedication to teaching by being named Who's Who Among America's Teachers in 1990. Good teachers do well because they love what they're doing, and students know good teacher when they have them, high school and College students selected her as the best teacher they ever had.
Rachel continued to be committed to her faith and attended John Wesley United Methodist Church in (Waterbury), were she taught Sunday school, Vacation Bible School and worked with the youth ministry. She also attended River of Life Worship Center in Odenton, Maryland, and Power of Faith Church in Baltimore, Maryland. She was a member of the Tanager Forest community prayer group. She was an avid reader, and the Bible was always at the top of her list. One of her favorite Bible verses was ( 2 Chronicles 7:14 )
She also enjoyed traveling, gardening, watching sports (not much of a choice with only a son and no daughter). Spending time with her family in St. Mary's County and her husband's family in Harford County, was always something she always found time to do.
Rachel leaves to cherish her memory her loving husband, Stanley; an adoring son, Darryl and a devoted caregiver, Tiffany Bryant of Glen Bernie, MD; one brother, James O. Taylor of Accokeek, MD; Goddaughter, Desiree Bailey, and a host of nieces, nephews, cousins, in-laws and friends.
In addition to her parents, she was preceded in death by seven brothers, John Henry Taylor, Willie M. Taylor, Samuel Taylor, Clarence E. Taylor, George B Taylor, James Hoover Taylor, Charles W. Taylor and two sisters, Bertha M. Fenwick and Maggie Taylor Rhodes.
She will be missed by her family, friends, the church community and the community in which she lived.
On Tuesday, March 16, 2021, visitation willl begin at 10 am until time of service at 11 am at Briscoe-Tonic Funeral Home, 38576 Brett Way, Mechanicsville, MD. Interment to follow at Charles Memorial Gardens, Leonardtown, MD 20650.