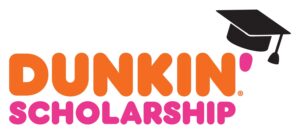 Dunkin' and its DMV franchisees launched their inaugural Dunkin' Regional Scholarship Program this past spring, which awarded $100,000 in academic scholarships to high school and college students throughout the DMV.
In partnership with Scholarship America, Dunkin' yesterday awarded 40 students throughout the DMV region with a $2,500 academic scholarship to an accredited two or four-year college, university or vocational-technical school of their choice in Fall 2022. Dunkin's DMV Regional Scholarship Program accommodates current part-time and full-time undergraduate students and high school seniors who were selected based on their academic record, demonstrated leadership skills and overall commitment to their school and local community.
The goal of the regional scholarship program is to recognize hardworking students in the DMV and to help ease the financial burden of pursuing higher education. This year marks the debut of Dunkin's Regional Scholarship Program to financially support deserving students in our local community.
"On behalf of my fellow DMV-area franchisees, we feel honored to award these 40 commendable students with the 2022 Dunkin' DMV Regional Scholarships," said Maria Icaza, D.C.-area Dunkin' franchisee. "We seek to further students' educational goals as a part of our commitment to support our local communities beyond our restaurant doors."
The 2022 Maryland Dunkin' Regional Scholarship recipients are as follows: Full list can be read here!
• Annapolis, MD – Clementine McLemore, Broadneck Senior High School (University of Washington Class of 2026)
• Great Mills, MD  – Sophie Chan, Great Mills High School (United States Naval Academy Class of 2026)
• Huntingtown, MD – Jenna Catlett, Huntingtown High School (University of Maryland: College Park Class of 2026)
• Indian Head, MD – Morgan Martin, Henry E. Lackey High School (Lipscomb University Class of 2026)
• Morganza, MD – Mackenzie Mozzo, Chopticon High School (University of South Carolina Class of 2026)
About Dunkin – Founded in 1950, Dunkin' is America's favorite all-day, everyday stop for coffee and baked goods. Dunkin' is a market leader in the hot regular/decaf/flavored coffee, iced regular/decaf/flavored coffee, donut, bagel and muffin categories. Dunkin' has earned a No. 1 ranking for customer loyalty in the coffee category by Brand Keys for 15 years running. The company has more than 12,600 restaurants in 40 countries worldwide. Dunkin' is part of the Inspire Brands family of restaurants. For more information, visit www.DunkinDonuts.com.
About Scholarship America – Scholarship America was founded in 1958, on the revolutionary idea that community support of scholarships could bring college education within reach for millions of students who couldn't otherwise afford it. Today, we continue those efforts to make postsecondary success a possibility for all students. Scholarship America supports 13,000 scholarship and education assistance programs across the nation and around the world.