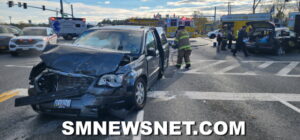 On Wednesday, November 16, 2022, at approximately 2:25 p.m., police, fire and rescue personnel responded to the area of Three Notch Road and Shady Mile Drive in California, for the motor vehicle collision reported serious with multiple subjects trapped and one vehicle overturned.
12 firefighters from Bay District Volunteer Fire Department responded and arrived on the scene in under 3 minutes.
Crews arrived on the scene to find two vehicles involved in a T-bone style collision with one victim trapped.
Firefighters extricated one victim in approximately 10 minutes.
At least three victims were transported to an area hospital with various injuries.
Deputies from the St. Mary's County Sheriff's Office responded and are investigating the collision.
One eyewitness stated they were stopped in the Southbound turn lane on Three Notch Road behind the Audi sedan. When the turn arrow for traffic turned green, the mini-van ran the red light and struck the Audi sedan in the passenger side which was turning onto Shady Mile Drive from Three Notch Road.
Updates will be provided when they become available.