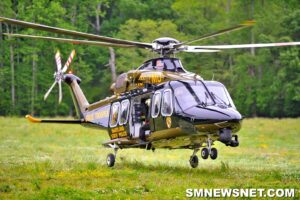 On Thursday, December 1, 2022, at approximately 7:37 a.m., police, fire and rescue personnel responded to Poplar Hill Road and St Peters Church Road in Waldorf, for the motor vehicle collision reported serious with one vehicle overturned.
911 callers reported a single vehicle overturned with entrapment and ejection, one caller reporting one victim was possibly not breathing.
Firefighters arrived on the scene in under 4 minutes to find a single vehicle into a utility pole and off the roadway, overturned with one victim trapped underneath of the vehicle.
Crews extricated the victim in under 10 minutes and requested two helicopters for three victims who were suffering from serious injuries. SMECO was requested to respond due to wires down.
Maryland State Police Helicopters Trooper 2 and Trooper 7 landed at the scene and transported an adult female, a 32-year-old male, and a 9-year-old male to area trauma centers.
Police are investigating the collision
Updates will be provided when they become available.