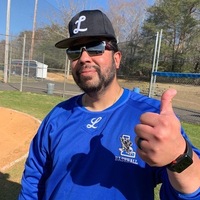 Joshua "Josh" Anthony Ocasio, 42, of Saint Inigoes Md, passed away at home surrounded by his wife and children on December 19, 2022 after his two-year battle with Leukemia.
Josh was born on June 25, 1980 to his beloved parents, Oscar Ocasio and Adela Ocasio in Yokota AFB in Fussa, Japan. After Josh graduated from Great Mills High School in 1998, he went to study at the University of Maryland before pursuing self-employment with Schmit bakery.
In 2011, Josh reconnected with an old high school classmate, Suzanne (Suzie), and fell fast in love. Josh and Suzie wed on October 1, 2016 and went on to create a beautiful, blended family together based on love.
Josh was an avid golfer and spent many hours on the course perfecting his game and trying to be the best. His love for baseball was also huge. When he wasn't playing or watching it, he was spending this time coaching it. Josh's ultimate passion was spending the last seven years coaching the baseball program at Leonardtown High School. He took much pride out of it and loved giving back to his community.
Josh truly lived life to the fullest through simple pleasures. He loved spending time with his two rescued dogs, Diesel and Ramsey. He had recently taken up a love for cooking and enjoying the final products of his culinary creations. Josh had an infectious smile and was loved by all that knew him. He was a great husband, father, son, brother, uncle, and FRIEND.
Josh is survived by his wife Suzanne Ocasio; his son Ethan Ocasio; his two stepdaughters Julianna Hammett and Alyssa Hammett; his parents Oscar Ocasio and Adela Ocasio; his in-laws Billy Biggs and Mary Biggs; his sister Denise Ocasio; his niece Bobbi Anne Ocasio; and his aunt Norma Clarke. He is preceded in death by his grandparents Carmelo and Ana Delia Ocasio; Quervin and Romana Aquino; aunt Ana Ocasio; and his uncle Freddie Ocasio.
Pallbearers are Charles Merkle, Micheal Tilton, Arthur Lyall, Vance Calabro, Pat Caldwell, Zac Bush, Christopher Schoenbauer, and Ryan Kaslavage
Family and friends are invited to gather at Brinsfield Funeral Home, 22955 Hollywood Rd Leonardtown Md on Thursday December 29, 2022, at 5pm with services starting at 7pm.  Graveside services will take place Friday December 30, 2022, at 10:30am at Trinity Episcopal Church, Trinity Church Rd St. Mary's City Md.