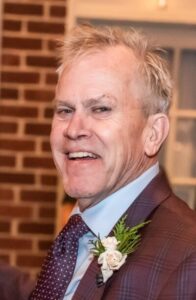 Todd Lee Rose, 66, of Hollywood, Maryland, passed away unexpectedly at home on December 23, 2022.
He was born on July 9, 1956 on a military base in Germany to Annette Fultz and the late Howard Rose Jr.
Todd was a retired Chief Petty Officer who served 20 years in the US Navy. He was a loving father and husband who cherished spending time with his wife and three daughters. Never sitting still—Todd enjoyed working on projects around his house and took great pride in having the best lawn in the neighborhood.
In addition to his mother, Todd is survived by his wife Angie Rose, his children: Tiffany and her husband Michael Kurt Strittmatter, Carolyn Rose, and LeeAnne Rose, his stepfather Jack Fultz, his siblings: Howard Rose III (Chris), Sherrie Cooke (Tim), Cindy Long (Butch), Dean Rose, as well as well as many nieces and nephews.
Visitation will be held from 12:00 pm-1:00 pm on Sunday, January 8, 2023 at Brinsfield Funeral Home & Crematory, P.A., 22955 Hollywood Road Leonardtown, Maryland 20650. A service will immediately follow beginning 1pm.
Information on internment will be provided to close family and friends as it becomes available.
Condolences to the family may be made at www.brinsfieldfuneral.com.
Arrangements by the Brinsfield Funeral Home, P.A.