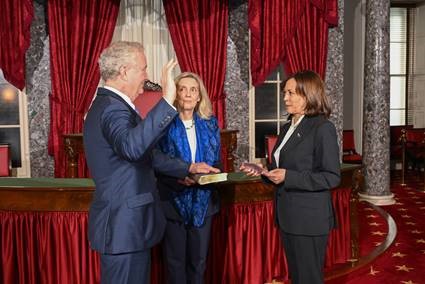 January 3, 2023, U.S. Senator Chris Van Hollen (D-Md.) released the following statement regarding his swearing in for a second term to serve the people of Maryland in the United States Senate.
"I am honored to serve the people of Maryland in the United States Senate and grateful for their vote of confidence to represent them for another six years. I know this is an immense responsibility, and I will continue working every day to uphold their trust.
"Last Congress – through the united efforts of President Biden in the White House and Democratic majorities in the House and Senate – we led one of the most productive legislative sessions in history – from critical legislation to confront the climate crisis and lower costs for American families to vital investments to modernize our infrastructure to common-sense, bipartisan first steps on gun safety, election integrity, marriage equality, and veterans' health care.

"This session, it's essential that we build on this progress by overseeing the effective implementation of these initiatives as we continue to build a more inclusive economy with greater shared prosperity. For Maryland, I'll be working to invest federal resources in key initiatives across our entire state to support our schools, our workforce, our seniors and our communities, including removing the Highway to Nowhere so we can reunite divided neighborhoods in West Baltimore. And I'll be fighting to build on the progress we've made to preserve and clean up the Chesapeake Bay by moving forward on our proposed Chesapeake National Recreation Area.
"On behalf of all Americans, I will continue fighting for progress on the many challenges our nation faces, including our march toward equal rights, equal justice and equal opportunity for all. Following Republicans' attacks on a woman's right to choose, I remain committed to protecting reproductive freedoms, and I'll keep working to codify the protections of Roe v. Wade into federal law. And, while we have enacted some meaningful measures on gun safety and election reform, we have much more work on both of these fronts. In particular, we must eliminate the torrent of secret, dark money from special interests that is polluting our democracy. Finally, while we took important steps to bolster our national security this session – including by passing my bill to deter foreign companies and governments from stealing America's cutting-edge technologies – we must continue working together to safeguard American interests at home and promote freedom and human rights abroad amidst the ongoing threats to democracy from authoritarian regimes
"I'll be working on each of these priorities this Congress to continue our work to build a more perfect union and promote more economic opportunity and greater prosperity for all Marylanders."