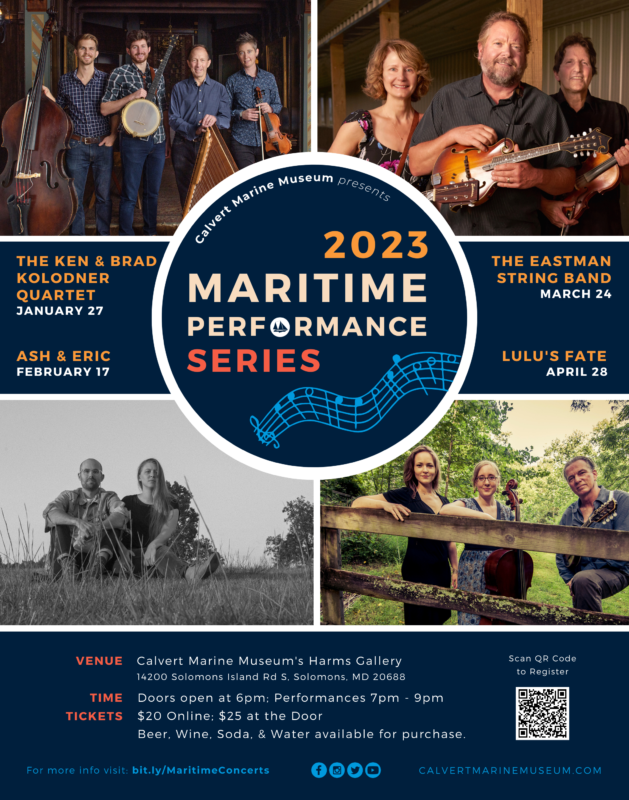 Tickets are available now for the 13th Annual Maritime Performance Series at the Calvert Marine Museum. Guests will delight in the harmonious talent each of these groups bring to the stage. Performances are in the museum's Harms Gallery starting at 7 p.m., doors open at 6 p.m. with beer and wine for sale.
Tickets are $20 online at Winter/Spring 2023 Maritime Performance Series  | Calvert Marine Museum, MD – Official Website, and $25 at the door.
Friday, Jan. 27 – THE KEN AND BRAD KOLODNER QUARTET – Regarded as one of the most influential hammered dulcimer players in the US, Baltimore's Ken Kolodner has joined forces with his son Brad Kolodner, one of the finest practitioners of the clawhammer banjo, to perform original and traditional old-time music. The dynamic father-son duo pushes the boundaries of the Appalachian tradition by infusing their own brand of driving, innovative, tasteful and unique interpretations of traditional and original fiddle tunes and songs. Rounding out the quartet is the mid-Atlantic's go-to bassist Alex Lacquement (Charm City Junction, The Bumper Jacksons, Letitia Van Sandt) and one of the best-known purveyors of old-time music, WV multi-instrumentalist Rachel Eddy.

Friday, Feb. 17 – ASH & ERIC – 
The married couple's new album 
Sure
 (May 2022) is 
"a tale of love… [with] some heartaches and a pinch of disputation along the way
." Hailing from the gritty heart of New England, the two find consolation in discovering beauty in the challenges of life. Their musings reflect the hope and pain we all experience, sung in voices as vulnerable and honest as their lyrics. Their songs feel like a warm welcome, a shoulder to lean on, and a hand to hold at the end of a long day. Their warm harmonies, swirling acoustic guitars, and easy stage presence have earned them a dedicated following in the emerging US folk scene, performing with folk legends like Livingston Taylor, Mark Erelli, and Vance Gilbert.
Friday, March 24 – THE EASTMAN STRING BAND – Soaring harmonies, high energy instrumentals, and heartfelt originals punctuate each performance of Tim and Savannah Finch with The Eastman String Band. Tim and Savannah Finch began playing music together at the Friday night jams once held at Tim's music store, "Good Deale Bluegrass" in Deale, Maryland. Their band consists of a cast of some of the finest players in music, which prominently includes renowned fiddler Jon Glik. Fusing the roots of bluegrass with Americana, together they have released two all original albums.
Friday, April 28 – LULU'S FATE – Lulu's Fate performs a mix of music from the Appalachian, southern string band and country blues traditions, as well as early swing, gospel, original tunes and covers ranging from Hank Williams to Tom Waits. Comprised of Tom Espinola on mandolin and guitar, Kristen Jones on cello, and singer Kara Bolling, the trio blends virtuosic instrumentals with lush three-part vocal harmonies to create new interpretations of traditional tunes. Lulu's Fate is based in the Washington, D.C. metro area and has performed at the Kennedy Center's Millennium Stage, Takoma Park Folk Festival, Washington Folk Festival, Kingman Island Bluegrass & Folk Festival, Institute of Musical Traditions and numerous coffeehouses and house concerts throughout the area.