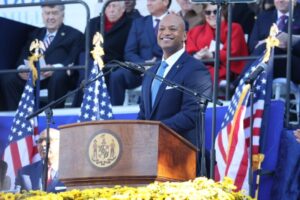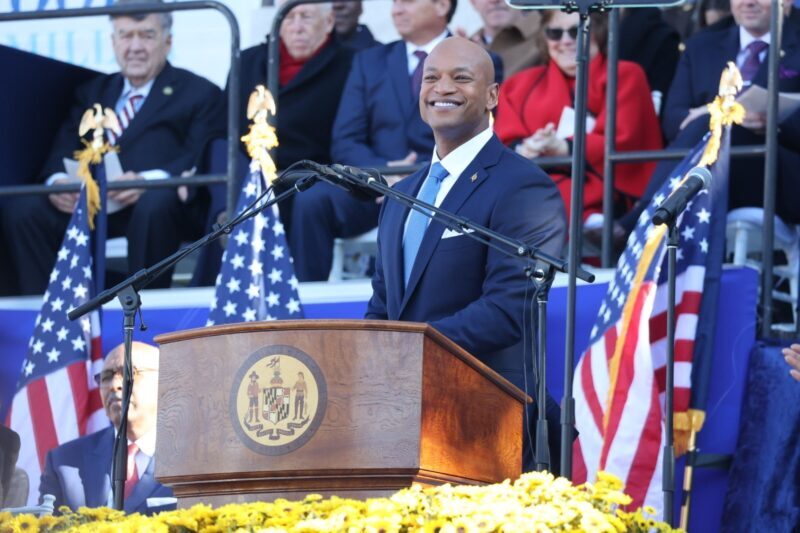 Wes Moore made history on January 18, 2023. Moore becomes Maryland's first black Governor and only the 3rd ever elected in U.S. history.
Moore was sworn in, taking the oath of office using Bibles once owned by his grandfather and Frederick Douglass.
Moore's speech can be viewed below.
Former Governor Larry Hogan released a Farewell Address – Thank You, Maryland, which can be read here. Thank you for your 8 years of dedicated service.
Key notes of his speech. "Good afternoon, Maryland, and from the bottom of my heart, thank you for the honor you have bestowed upon me and Aruna.
Now yes, Aruna's and my portraits are going to look a little different from the ones we've always seen in the capitol. But that's not the point. This journey has never been about "making history." It is about marching forward.
Today is not an indictment of the past; it's a celebration of our future. And today is our opportunity to begin a future so bright, it is blinding.
Maryland is home to spectacular natural beauty, dynamic industries, and people as talented as they are determined. But … the truth is: Maryland is asset-rich and strategy-poor. And for too long, we have left too many people behind. We know it is unacceptable that while Maryland has the highest median income in the country, one in eight of our children lives in poverty.
We can attract and retain top industries, like aerospace, clean energy, and cybersecurity … and raise our minimum wage to $15 an hour to help folks feed their families.
Over the last eight years, the rate of violent crime has risen. Many Marylanders have grown weary in their faith in government's ability to keep them safe. We can build a police force that moves with appropriate intensity and absolute integrity and full accountability, and embrace the fact that we can't militarize ourselves to safety. We can support our first responders who risk everything to protect us, and change the inexcusable fact that Maryland incarcerates more Black boys than any other state.
We do not have to choose between a safe state and a just state. Maryland can, and will, be both.
Maryland: our time is now. Our time is now to build a state that those who came before us fought for, a state that leaves no one behind.
That is not a slogan; it is a fulfillment of a hope.
It's our time, Maryland. Let's lead.
Thank you.

About Wes Moore
– Moore is a combat veteran, bestselling author, small business owner, Rhodes Scholar and former CEO of one of the nation's largest anti-poverty organizations, has devoted his life's work to a basic principle: no matter your start in life, you deserve an equal opportunity to succeed – a job you can raise a family on, a future you can look forward to.
Wes graduated with an Associate's Degree from Valley Forge Military College in 1998 and then Phi Beta Kappa from Johns Hopkins University in 2001. As a teenager, he interned for former Baltimore Mayor Kurt Schmoke and then went on to earn a Rhodes Scholarship, which took him to Oxford University.
Inspired by his mentors at military school, Wes went on to serve as a captain and paratrooper with the U.S. Army's 82nd Airborne, including leading soldiers in combat in Afghanistan. He also served as a White House Fellow, advising on issues of national security and international relations.
Upon returning home, Wes wrote "The Other Wes Moore," a story about the fragile nature of opportunity in America, which became a perennial New York Times bestseller. It's commonly assigned reading in Maryland schools. Wes went on to write other best-selling books that reflect on issues of race, equity and opportunity, including his latest book "Five Days," which tells the story of Baltimore in the days that followed the death of Freddie Gray in 2015.