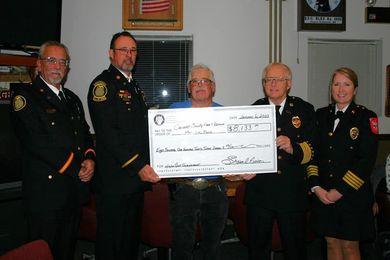 On Friday, January 6, 2023, the Calvert Elks #2620 presented officers from the Calvert County Volunteer Fire, Rescue & EMS Association a check for their Memorial Fund in the amount of $8,133 from their recent golf tournament.
We would like to thank them for their time and efforts in preparing and hosting the fundraiser as well as for dinner on 1/6/23. The Calvert Elks continuously help and support our community. We look forward to working with them in the future.
The Calvert County Volunteer Fire, Rescue & EMS Memorial is located at Chesapeake Highlands Memorial Gardens off of Broomes Island Road in Port Republic, MD. The Memorial has a monument with the Calvert County Line of Duty Deaths engraved, a piece of the World Trade Center, eternal flame, and US, Maryland, and Calvert flags flown daily.
Pictured: Vice President Patrick Hassler (President 2), Treasurer Charlie Hanko (Co. 6), Calvert Elks Esteemed Leading Knight Moe Mattera, President Billy Freesland (Chief 1A), Secretary Lori Lodge (President 12)