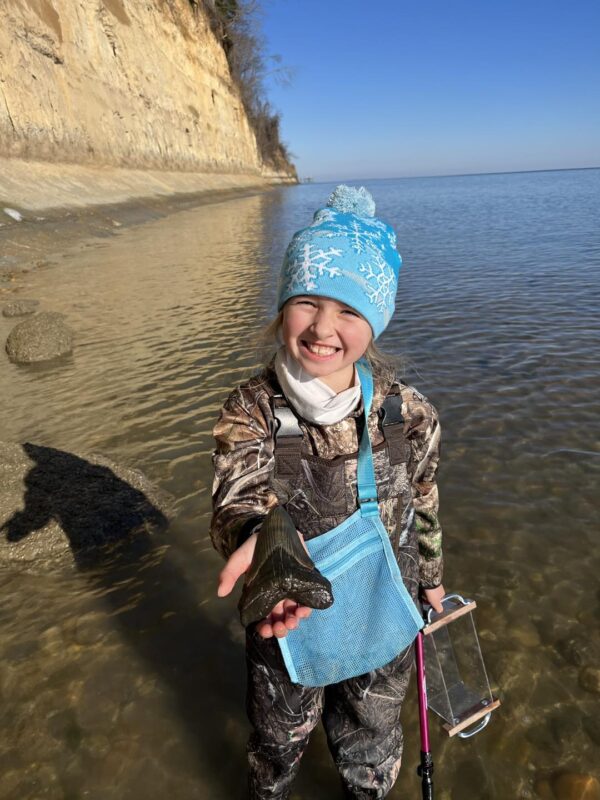 Future paleontologist, Molly, was out searching for fossils on Christmas morning when, what to her wondering eyes appeared…but a huge Megalodon tooth!
Molly was excited to share her awesome find with our paleontology department at the museum!
We love seeing and hearing about the treasures you find along the shore. New in 2023 is our First Fossil Friday program! On the first Friday of every month we invite the public to bring their findings to the museum to be identified by museum staff from 1-4:30 p.m.
We hope to see you and your fossils soon! Enjoy Molly's photos below!
The Prince Frederick family said Molly and her older sister, Natalie, asked for and received insulated waders so they could go shark tooth hunting "like the professionals!".

Once receiving their gifts along with gear their father made they set out with him with Molly declaring on the way "I'm looking for a Meg!". Not even half an hour later she got the huge Christmas gift!
Stephen Godfrey, the curator of paleontology at the Calvert Marine Museum, stated the tooth belonged to the Otodus megalodon, the now-extinct shark species. Reported as "one of the largest, if not the largest marine macropredator the world has ever known."
Godfrey said this tooth is from the left side of the shark's upper jaw, which is known because of the width of the tooth's root. The shark that would have had the tooth would likely have been between 45 and 50 feet long.
All photos are courtesy of the Sampson family! Molly and Natalie now have their own Instagram page for their amazing discoveries which now total over 400 teeth!
Fossil hunting can be done at the open beach area at the end of the red trail, approximately 1.8 miles from the parking lot. Over 600 species of fossils from the Miocene era (10 to 20 million years ago) have been identified in the Calvert Cliffs, many of which can be found at Calvert Cliffs State Park. Chesapectens, Ecphora, Miocene era oyster shells and sharks teeth are common finds. Sieves and shovels can be used to sift the sand for fossils.
**CLIFFS SAFETY NOTICE**  Due to the danger of landslides caused by active cliff erosion, and the serious injuries they cause, CLIMBING UPON AND WALKING BENEATH THE CLIFFS IS PROHIBITED. This area is permanently closed. It is illegal to collect fossils beneath the cliffs.