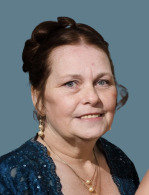 Tammy Jean Hall, 58, of Great Mills, passed away peacefully on Thursday, January 19, 2023, at her home. She was born on February 13, 1964, in Baltimore, MD, to the late Cecelia A. Seidenstricker. Her family later relocated to Southern Maryland, where she raised her children and met her husband, Eric.
Tammy's love of children led her to open T's Daycare, and her dream was to provide childcare for all of her grandchildren. Her love for her family could be felt in everything she did.
Tammy enjoyed gardening, cooking, and reality TV shows.
Tammy is survived by her loving husband, William Eric Hall, her children Michael Penrod (Sarah) of California, Jason Penrod (Kristin) of Valley Lee, Heather Penrod (Scott) of Hollywood, and Debra McCord (Martin) of Charlotte Hall; her seven grandchildren, Chase, Marissa, Madison, Thomas "TJ," Brayden, Daniel, and Hailey; her brother James L. Seidenstricker of Piney Point, her sister Vicki Pilkerton (Kenny Pickeral), her niece Sydni Garcia (Joseph), and her nephew Spencer Weir (Kristina).
She was preceded in death by her mother, Cecelia A. Seidenstricker, and her father, Donald C. St. Don.
All services will be private.