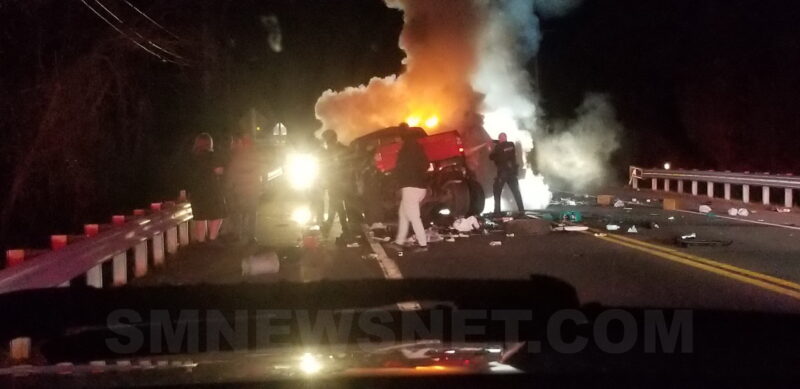 UPDATE 1/28/2023: The St. Mary's County Sheriff's Office released the following information.
On Jan. 27, 2023, at 8:24 pm, police and emergency medical services responded to the 18000 block of Point Lookout Road (Route 5) and Hermanville Road for a vehicle crash. Deputies from the St. Mary's County Sheriff's Office arrived and located two vehicles in the roadway on fire with a person trapped.
Cesar Leonel Hernandez-Chacon, age 46 of Dameron, operating a 1998 Toyota Tacoma, was pronounced deceased at the scene as a result of his injuries. Kristen Stefanic-Peters, age 35 of Hollywood, operating a 2007 Ford F-150, was transported to an area hospital with non-life- threatening injuries.
The St. Mary's County Sheriff's Office Crash Reconstruction Team responded to the scene and continued the investigation.
Preliminary investigation determined that the Ford F-150 was traveling south on Point Lookout Road in the southbound lane when it was struck head on by the Toyota Tacoma which was traveling north in the southbound lane of Point Lookout Road. The collision caused both vehicles to catch fire, which was extinguished by firefighters from NAS Patuxent River and Bay District Volunteer Fire Department.
At this time, speed and alcohol are believed to be contributing factors in the crash.
Anyone who witnessed the collision and has not yet provided a statement to law enforcement is asked to contact Cpl. Vincent Pontorno at 301-475-4200, ext. 72337 or email [email protected].

1/27/2023:
On Friday, January 27, 2023 at 8:25 p.m., police, fire and rescue personnel responded to the area of Point Lookout Road and Old Hermanville Road in Park Hall, for the reported motor vehicle collision with one vehicle on fire and subjects trapped.
Firefighters from Bay District Volunteer Fire Department Company 3 and 9, along with NAS Patuxent River and several off-duty members from various departments responded to the scene.
First arriving units found a Ford pick up truck and a Toyota Tacoma pickup truck involved in a head-on style collision with the operator of the Toyota being pronounced deceased upon arrival.
The operator of the Ford pickup truck was able to escape with serious injuries. Firefighters arrived on scene to find the truck engulfed in flames.
Multiple St. Mary's County Sheriff's Deputies and citizens attempted to extinguish the fire to no avail.
Maryland State Police Helicopter Trooper 7 landed nearby and transported the operator of the Ford to an area trauma center with serious injuries that are believed to be non-life threatening.
The St. Mary's County Sheriff's Office Traffic Reconstruction Unit responded to investigate the collision.
Updates will be provided when they become available.