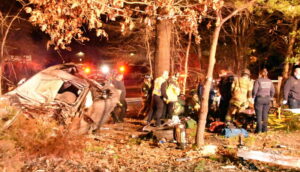 On Monday, January 30, 2023, at approximately 12:20 a.m., while firefighters in Charles County were operating on the scene of an house fire, personnel were advised of a serious crash in the area of the Target on Western Parkway and Weymouth Court in Waldorf.
911 dispatchers advised they were receiving multiple calls reporting one vehicle overturned and on fire with at least one victim being ejected.
Crews arrived on the scene to find the vehicle overturned and on fire with no occupants in the vehicle.
A male victim was located a short time after crews arrived on the scene and requested a helicopter due to his injuries.
Maryland State Police Helicopter Trooper 2 landed nearby and transported him to an area trauma center with unknown severity of injuries.
Maryland State Highway Administration and SMECO were requested to the scene for destroyed utility boxes, and traffic signal devices.
Police responded and are investigating the collision. CCSO advised the following. "Western Parkway is re-opened in both directions, with the exception of the crossover at Weymouth Ct to Target. This crossover will be shut down until further advised for repairs."
All photos courtesy of P. Hawkins