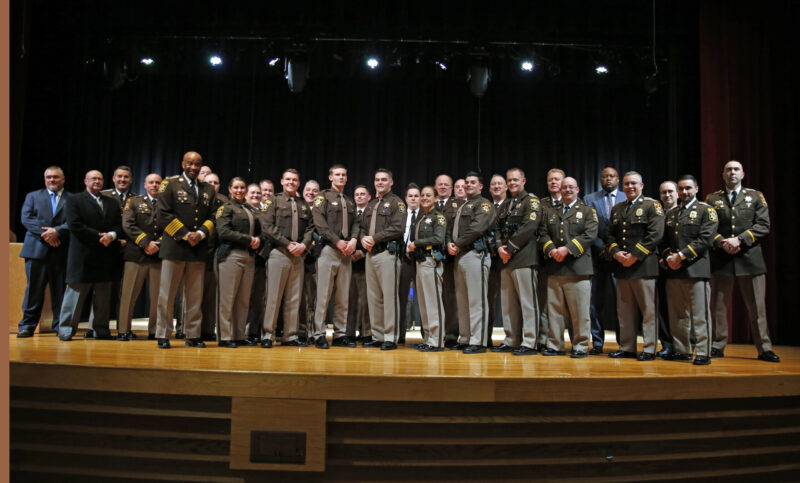 Charles County Sheriff Troy D. Berry is proud to announce six new officers will join the Charles County Sheriff's Office after their graduation from the Southern Maryland Criminal Justice Academy (SMCJA) Police Entrance Level Training Program. The officers were among a total of 16 candidates – one with Calvert County and six with St. Mary's County – who graduated on January 27.
"Completing the Criminal Justice Academy requires many sacrifices from these officers as well as their families. We are very proud of their dedication and perseverance to complete this rigorous 6-month program," said Sheriff Berry. "We are also very grateful for the SMCJA Staff, as well as guest instructors, for their tireless efforts in training and preparing these officers for their new careers."

Class Coordinator Master Corporal Daniel Baker of the Charles County Sheriff's Office began the ceremony by announcing the entry of the graduating class. SMCJA Director Bobby Jones, of Calvert County, welcomed the graduates and their families and spoke about the training program that started in June 2022 and included over 1,000 hours of instruction. Sheriff Steve Hall of St. Mary's County gave opening remarks, imparting words of wisdom for the graduates' new career and the difficulties and rewards each of them will encounter.
Ms. Danielle Baker performed the National Anthem, and members of all three counties' Honor Guard teams presented the colors. Chaplain Charlie Wharton of the St. Mary's County Sheriff's Office offered the invocation and benediction. Mr. Albert Liebno, Jr., of the Maryland Police and Correctional Training Commissions provided remarks, and Mr. John Delabrer of the College of Southern Maryland spoke about an articulation agreement between the Academy and the College that provides each graduate with fifteen college credits toward a criminal justice degree. St. Mary's County graduate Deputy Aaron Ocasio was the class speaker.
During the ceremony, SMCJA instructors presented awards to graduates who excelled in several categories:
Caprice VanAuken (Charles) was awarded the Scholastic Award with a GPA of 98.77 percent;
Zachary Gadwill (Calvert) was awarded the Physical Fitness Award with a score of 1381 out of a possible 1600;
Santiago Estrada Lora (St. Mary's) was awarded the Firearms Award with a score of 98 percent;
Caprice VanAuken (Charles) was awarded the Emergency Vehicle Operations Award; and
Helen Deitrich (St. Mary's) was awarded the Steve Allen Award, named after one of the original founders of the SMCJA who died of cancer several years ago. The Steve Allen Award recipient demonstrates attributes of leadership, initiative, motivation and compassion throughout their attendance at the academy.
Master Corporal Daniel Baker along with Class Leader, Officer Andrew Boyle, and Guidon Bearer, Deputy Zachary Gadwill, retired the Class Guidon.
The Southern Maryland Criminal Justice Academy congratulates the following graduates:
Charles County Sheriff's Office:
Andrew J. Boyle
Vivian J. Colantonio
Joseph L. Huston
Dean E. Kirby
Rick D. Perry, Jr.
Caprice N. VanAuken
St. Mary's County Sheriff's Office:
Helen J. Deitrich
Santiago Estrada Lora
Julian J. Grant
Elijsha S. Munn
Aaron A. Ocasio-Rivera
Richard M. Stillwell
Calvert County Sheriff's Office: